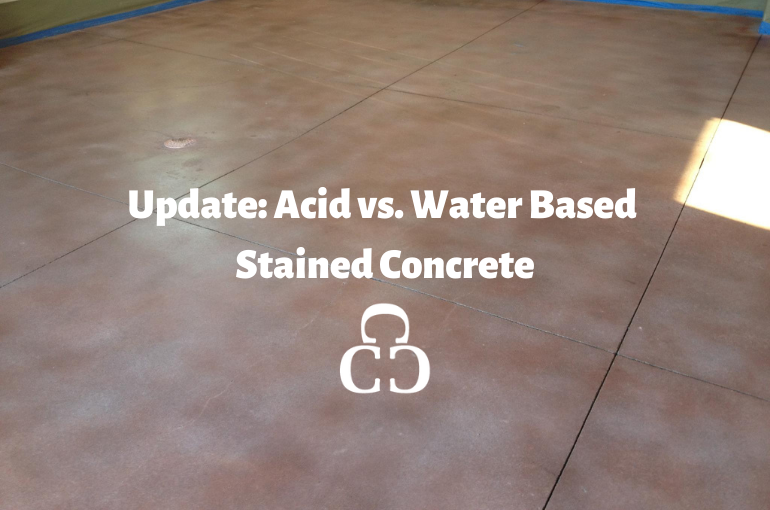 When it comes to adding a design element to your concrete floors, it's hard to choose from the plethora of options out there. You've done the hard part of deciding to stain your concrete floors as opposed to the many other options available to you. Now, it's time to look into acid stain vs water-based stain for concrete. Not sure which option is right for your residential or industrial/commercial need? Don't worry; we've got you covered. Below is a deeper dive into what acid and water staining are as well as the associated pros and cons of each type in order to ensure you choose the best option for you!
Acid Staining
Acid stains are a mixture of water, hydrochloric or phosphorous acid, and metallic salts. The acid eats away at the surface of the concrete, opening its pores and making way for the metallic salts to come through and chemically react with the concrete to produce a variety of translucent earth-toned colors. Because a chemical reaction is occurring, it is not certain the acid will react exactly the same every time it is exposed to concrete. There are a number of different factors that influence this from the age of the concrete to how porous it may be. If all things remained the same, the acid would still find a way to travel through the concrete in a way that produces an end product that is never exactly the same. The unpredictable nature of the product can be both a strength and a weakness depending on your needs. If you're looking for a unique color and/or design, acid staining could be the right call for you, but if you're looking for a more consistent end-result, you may want to consider a water-based concrete stain. Knowing the pros and cons of acid stain vs water based stain for concrete is super important in your decision. Additionally, with acid-based stains, you'll need to ensure you wash the surface after application in order to neutralize the newly stained concrete and to remove any acid residue.
Water-based Stains
Because concrete is naturally porous, it makes for the perfect surface when applying water-based stains. Water-based stains are exactly what the name implies; they are water-based, non-reactive solutions that deposit pigment into concrete's natural pores. Because they are non-reactive, you can count on a more uniform and consistent finish than acid-based stains. Water-based stains are available in a wide array of options from more opaque to vibrant colors to fit whatever your need, and unlike acid-based stains, there is no acid residue, so you won't have to worry about neutralizing the surface after the fact.
For more tips on staining concrete, click here and here.
Now that you know everything about acid stain vs water based stain for concrete, you can begin your project! There are so many creative and custom options for finishing concrete, but first and foremost important is the concrete itself. At Custom Concrete Creations we have state of the art equipment and a properly trained team with years of experience. Custom Concrete Creations is a premier contractor serving the Omaha area as well as the Midwest. Give us a call or send us an email for your custom concrete finishing needs today!