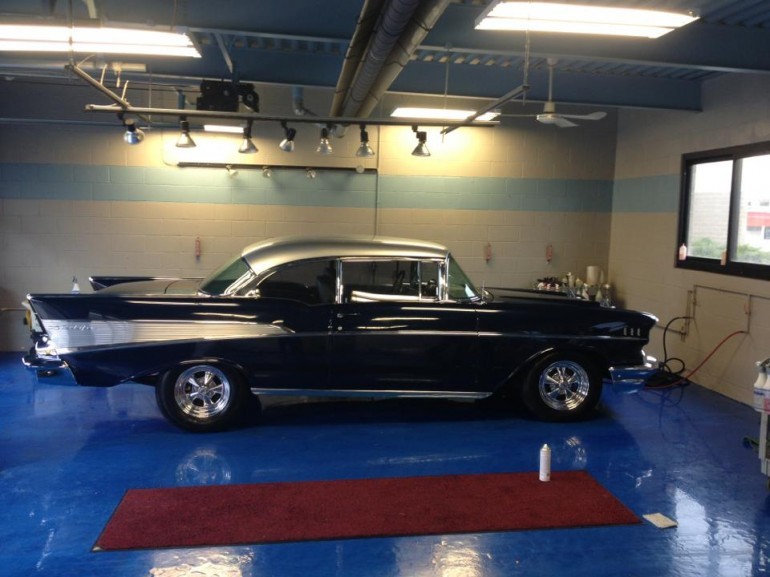 If garage floors have been properly prepared then floor coverings can be installed over them. The garage floor must be clean of dust, dirt, oils, sealers, and any other debris that will keep the covering from bonding prior to installing a garage floor covering. This can be done by using a power scrubber and detergent to clean the floor. Then acid wash the floor with a solution comprised of one part acid to four parts of water. Afterwards neutralize the concrete surface with a solution made of ten parts water and one part ammonia. Use a brush with stiff bristles to work the neutralizer into the concrete surface then rinse it well with a high-powered washer.
It is important to take care of any cracks that may be in the surface prior to the garage floor covering installation. Any small cracks can typically be filled with 100% solids epoxy paste then the excess paste is scraped off to be level with the floor. Larger cracks should be overfilled with epoxy and allowed to dry, then a grinder should be used to level the epoxy to the surface. It is recommended to use a 100% solids epoxy or a fast drying cementitious substance to fill in any rough spots or deteriorated areas. If there are any tooled control joints a thin bead of a simple latex caulk can be applied to seal the bottom of the joint. This creates a smooth joint for the garage floor system being installed and creates a floor that is easy to clean. Use a polyurethane caulk for expansion joints or saw cuts.
If you are unsure if your garage floor has any moisture control issues that could prevent bonding there is an easy test that can be done to determine this. Cut a two by two foot square piece out of plastic sheeting and tape the edges down to the floor. Vapor transmission is confirmed if water collects underneath the plastic. If you have vapor transmission you will need to talk to your installer to find a good vapor barrier to apply before the primer coat goes on.
You will want to choose a garage floor system that consists of a primer, a base coat, and a top coat. The primer coat prepares the floor for proper adhesion. Using a roller to apply the primer, follow the manufacturer's instructions and let the primer dry. Once the surface is dry to the touch, apply the epoxy or urethane base coat. If using flakes, broadcast them onto the wet base evenly. Flakes can be applied light or heavy, light to allow the base color to show through or heavy for more coverage and durability. Remove any loose flakes by either sweeping or blowing them off. Use a metal floor scraper to scrape any paint chips that may be sticking up out of the base coat then sweep or blow the floor again. (Click here to check out our C3 signature garage floors.)
The system is then sealed with a finishing coat. A two part aliphatic polyurethane is recommended, often preferred over simple epoxy coatings, because of its UV resistance keeping it from fading or yellowing from sunlight like epoxies do. The floor will need 48 hours to dry for foot traffic and five days to dry before allowing vehicles on the surface. Two coats of sealer may be needed if a full broadcast of flakes is applied. Slip resistant aggregates can also be added with the finish coat to help reduce slipping or falls and to increase traction. (For garage floor ideas click here.)
There are so many creative and custom options for finishing concrete, but first and foremost important is the concrete itself. At Custom Concrete Creations we have state of the art equipment and a properly trained team with years of experience. Custom Concrete Creations is a premier contractor serving the Omaha area as well at the Midwest. Give us a call or send us an email for your custom concrete finishing needs today!