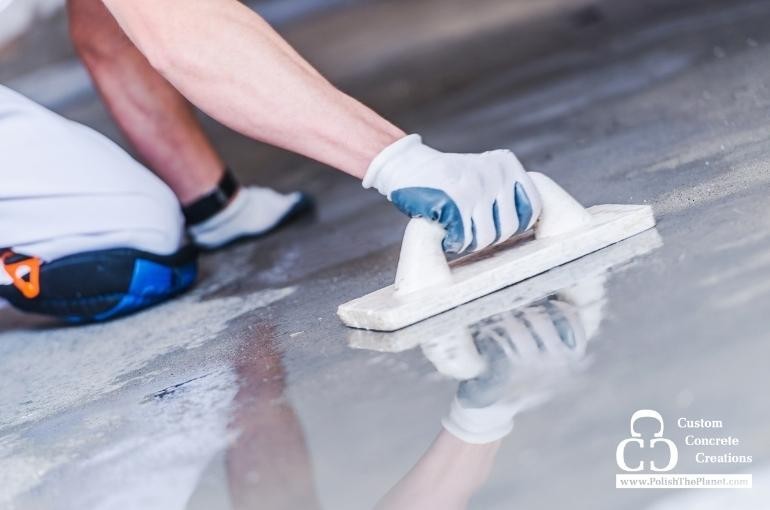 Concrete floors are growing in popularity. But not just ordinary concrete that we walk on outside; polished concrete. Polished concrete is a top choice when it comes to commercial flooring due to its affordability and variety of design. Polished concrete can work in pretty much every commercial space. From offices to churches, warehouses to restaurants and even retail stores, polished concrete is a universal flooring option, but why?
At Custom Concrete Creations, we are experts when it comes to polished concrete floors. Our team has installed many concrete floors throughout the years and understands how beneficial this flooring option really is. Below, we go over some of the benefits of using polished concrete floors in your commercial building!
Concrete floors are very durable
One of the best things about concrete floors is that they are more durable than other flooring materials such as wood, sandstone, ceramic tiles and porcelain. Because concrete is very strong and resilient, it is difficult to damage from scratches, scuffs or falling objects. Concrete is a robust material that offers long-lasting results that can't be obtained from other flooring material types, and this is one of the reasons it is a popular option in many commercial and industrial environment settings.
Requires little maintenance
Another important benefit of having concrete floors is that they require very little maintenance to keep them in good shape. Concrete has a surface that is scratch-resistant, and spills (oil or liquid) can easily be cleaned up. Through buffing, polished concrete floors are very easy to clean in both residential and commercial environments, and they will boost the aesthetic appearance of your room while also increasing the lifespan of your floors.
Last forever
So concrete floors may not last literally forever, but they will last for a very long period of time! With proper maintenance, a concrete floor can last up to 20 years. If you want a flooring material that will give you a good return on investment, then polished concrete floors are what you need!
Environment-friendly
Compared to other flooring materials such as wood, concrete production is more friendly to the environment and requires no use of trees or mining for stones. Concrete also does not contain any volatile organic compounds that are found in carpets, engineered wood or floor materials made of plastic. Not only does this save and preserve the environment, but it also prevents allergens from becoming present in your home or business.

Variety of styles and design
Lastly, polished concrete floors come in a variety of styles and designs. You can choose pretty much any color you wish and can even customize your floors with certain patterns or your company's logo. You can even make your concrete floors resemble wood flooring, marble flooring, and other flooring materials!
Overall, polished concrete is an affordable and beautiful flooring material that can work well in almost every commercial space. If you are looking to add new flooring in your business, consider polished concrete floors!

If polished concrete is what you want, then we have what you need! Give our team a call today to learn more about our concrete flooring services!