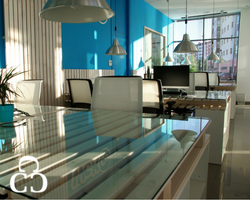 When it comes to choosing the right flooring material for your office space, there are countless options out there for you to pick from, so it can easily seem overwhelming when trying to make a decision. Out of all the options available to you, we strongly recommend using polished concrete in the workplace. Polished concrete touts many advantages such as durability, cost-effectiveness, health benefits, low maintenance, pleasing aesthetic, and eco-friendly among many others! These benefits specifically though make polished concrete the perfect flooring material for the office space. Read below to find out more about what polished concrete can do for your business!
Durability
In areas where there is a high amount of foot traffic, much like the office place, there is an increased need for highly durable floors. Because it is considered to be one of the most durable building materials in the world, concrete would be a great option for such a space! This durability not only helps to keep the floors polished and looking new, it also means you don't have to replace it as often as you would other building materials.
Cost-Effective
As expressed above, polished concrete floors are extremely durable and do not need to be replaced nearly as often as many of the other options available to you in the marketplace. Because of this, concrete is most always the most cost-effective flooring option in the long-run. While it may seem appealing to choose an option for its long-term benefits, you might still be wondering about upfront costs. Lucky for you, concrete is a cost-effective flooring option in the short run in addition to being a cost saver years down the road!
Healthy
Unlike other flooring materials that are often used in the office space, such as carpet, polished concrete is seen to be a healthy flooring option. It does not hold dirt, dust, or other allergens like carpet fibers do. This characteristic makes polished concrete an extremely health-conscious option for the office space.
Easy To Clean
With clients coming in and out, it's important to keep the workplace environment clean at all times. With concrete, this is easily done as concrete floors require little maintenance to keep them looking polished and brand new! All you'll need to do is go over the desired area with a dry dust mop to remove any dirt or dust particles on the surface. After all contaminants are removed from the surface, go over the area with a wet mop using a mild cleaner. Follow this up by dipping the mop in clean water to rinse the surface, and you're good to go! As you can see, the process is pretty simple and requires no harsh chemicals making it easy for you and easy on the environment!
Good For The Environment & Good For Business
As iterated above, when cleaning concrete, no harsh chemicals are necessary, so you don't have to worry about being harsh on the environment in that regard. Additionally, polished concrete is seen as a sustainable building material, able to last for years and sometimes even decades. Because it does not have to constantly be replaced, concrete helps to reduce its impact on the environment. Lastly, polished concrete can be considered an eco-friendly building and surfacing material because no harsh stripping or sealing needs to be done to reach its final form. In these processes, the environment is often negatively impacted. Because they are not necessary with polished concrete, the environment again is not negatively affected.
While you should be good to the environment because it is the right thing to do, there are also other benefits to doing so. By being eco-friendly, you can align your company with a noteworthy cause that helps to frame it in a positive way. Again, while this PR move should not be your main reason for choosing concrete, it sure doesn't hurt!
To learn more about concrete as an eco-friendly building material, click here.
Aesthetics
In addition to the advantages of polished concrete listed above, polished concrete also has a pleasing aesthetic look that helps to add a decorative touch to the office space. With clients coming in and out, this decorative touch is necessary and can easily be obtained by utilizing polished concrete!
Above, we've walked you through six benefits to utilizing polished concrete in the office space including durability, cost-effectiveness, health-consciousness, ease of maintenance, eco-friendly, and pleasing aesthetics. These benefits only begin to scratch the surface though. When polished concrete is utilized in any space, but the office space particularly, it sends a certain message. One that is forward thinking and design conscious among many other thing. Hopefully in detailing its benefits, we've helped you to understand how this message is achieved.
*****
There are so many creative and custom options for finishing concrete, but first and foremost important is the concrete itself. At Custom Concrete Creations we have state of the art equipment and a properly trained team with years of experience. Custom Concrete Creations is a premier contractor serving the Omaha area as well at the Midwest. Give us a call or send us an email for your custom concrete finishing needs today!