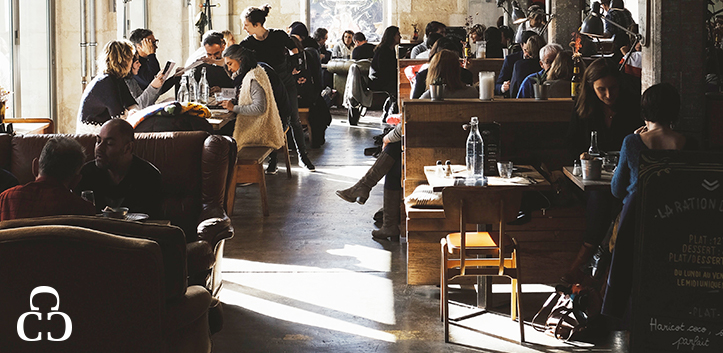 Mexican fast food chain Chipotle is loved nationally for its burritos. They pride themselves on making quick, fresh food with the highest-quality ingredients. Their brick-and-mortar restaurants are also designed with these themes in mind. Polished custom concrete floors give Chipotle the aesthetics and functionalities that their restaurants need to succeed.
The Upkeep
Chipotle Mexican Grill has specified that all its restaurants use polished concrete in the front dining areas. A huge reason behind this change was to promote easy sanitation. Messy spills of food materials, meats, sauces, or other substances can soak into unfinished concrete or tile flooring. Chipotle formerly had carpet in some of its dining rooms, making it almost impossible to clean.
"Polished concrete has substantially improved our floor's sanitation in the restaurant's dining area," says Chipotle construction manager Steve Henderson. "We're very satisfied with the application. It's very cleanable."
In addition to restaurants, establishments with in-house breweries might particularly need an easily-sanitized floor. The yeast involved in the fermentation process can leak onto a surface and literally grow deeper into the floor. Once this happens, cleaning is almost impossible and full sanitization might require re-flooring.
Warehouses are one other food service area that require clean floors. Polished concrete can be sealed and maintained to the extent that frozen food can even be stored directly on it. Of course, polished concrete needs regular cleaning to remain sanitary. If a cleaning routine is set and followed, it can last longer than almost any other kind of floor.
Polished concrete should be sanitized with a cleaner that's above a neutral pH (acidic), as prolonged exposure to low-pH cleaners can damage the floor's surface.
The Durability
Heavy foot traffic is a regular concern in many restaurant dining areas, including always-busy Chipotle locations. Epoxy floors involve thicker custom concrete coatings that sit on top of the concrete's surface, rather than hardening and polishing the top of the existing concrete. For this reason, epoxy floors can wear and become more porous over time. Dirt and tire marks from moving or cleaning equipment (depending on the establishment) can become harder to remove, sometimes making sanding and refinishing necessary.
Cracking is a huge risk in more ways than one. Obviously, a crack lessens the structural integrity of any floor – one crack means more will likely follow. Cracks also present sanitary concerns, since an exposed opening in the floor's surface means that bacteria and contaminants can reach down into the floor where removal is impossible. Solid polished concrete is less prone to cracking than the epoxy coatings used on some high-traffic floors. This is only one of the reasons why Chipotle chose the material to carry its stores into the future.
Leadership in Energy and Environmental Design (LEED) is a system of ratings from the United States Green Building Council to gauge the environmental performance of a building and promote "green" design tactics. Polished concrete floors meet this set of standards in three ways: the surface doesn't require the use of any volatile organic compounds (VOCs), increases a room's ambient light by up to 30%, and increases the lifespan of the existing concrete.
Chipotle's Communications Director, Chris Arnold, says "green" design practices are "the kind of thinking that is just part of our DNA."
The Aesthetic
Previously, some Chipotle restaurants used stained and sealed concrete. But, like some other floor surfaces, it wore out over time and became progressively harder to clean. The stained concrete probably looked great when it was installed but couldn't withstand the foot traffic. Polished concrete, on the other hand, doesn't rely on coloring or elaborate coatings to keep it looking fancy. The sleek, modern surface can fit into almost any conceivable design scheme without the need for color matching.

For a floor that meets the FDA and USDA standards for cleaning and durability, Chipotle turned to polished concrete. To look into installing this (or one of many other custom concrete coatings), get in touch with us at Custom Concrete Creations!
******
Custom Concrete Creations is chosen to help facilitate projects because we are the preferred custom concrete floor company, not only in Omaha, but for the greater Midwest region. No project is too big or too small for our team of seasoned experts who use state-of-the-art equipment on each and every project. We help you achieve the look of your dreams and do not consider the job done until you are happy with the results. So give us a call or contact us for your custom concrete needs today!