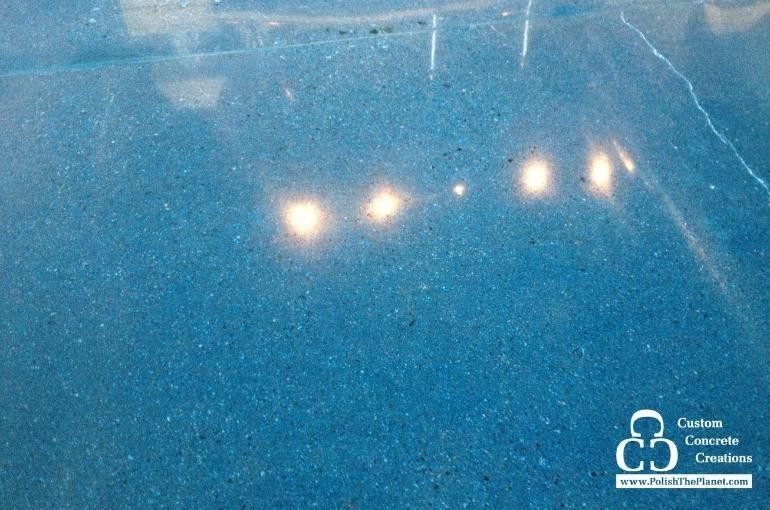 Concrete flooring can be more than just a gray floor, there are a variety of different coloring and finishing options. You might be surprised that polished concrete can be stained to match any color and can even include your company's logo. Concrete can also be made to resemble wood. Polished concrete is the only flooring that gives you this many options.
Custom Concrete Creations is a leader in the decorative concrete world. We specialize in decorative concrete flooring, such as polished and stained concrete floors. Many of these finishes will also provide protection to the concrete floor. See how these coloring and finishing options can accentuate your space!
Polished Concrete
Polished concrete can make your area more appealing and unique. Polishing the concrete gives your floors a smooth and shiny appearance and provides a beautiful stone floor look. To create polished concrete floors, the concrete is ground down with fine abrasive pads; the finer the pads, the more glossy and mirror-like your floors will appear. A protectant coat is then applied.
Stained Concrete
Stained concrete floors are often done with acid or water-based stains. Both of these options produce a bold color. Acid-based stains are mostly earth tones such as rust, terracotta, burnt sienna and turmeric. Water-based stains provide a larger color palette. Stained concrete is made to enhance the appearance of your already existing concrete floors.
Epoxy Coatings
Epoxy coatings are the most durable finishing for concrete floors. These coatings are made of epoxy resin and a polymer hardener. Many design options are available when it comes to epoxy, including terrazzo, chip and aggregated color flooring styles. You see epoxy coatings a lot in garages, auto body shops, car dealerships, warehouses and maintenance centers.
Dyes and metallic coatings
Dyes do not cause a chemical reaction with concrete like acid staining. Other sealers consist of metallic coatings, densifiers and sealers. Metallic coatings add shimmer to any concrete surface, as they contain real metallic powders or reflective pigments. If you're looking to achieve an upscale design, metallic coatings are the way to go. Dyes can get you purples, yellows and blues that can be mixed to create any custom color.
Stenciling
Stencils allow for different textures to appear on the concrete. There are tons of already existing colors available, and you can create customized patterns as well. Stencils can give your concrete floors a one-of-a-kind look and feel. There are several different stenciling techniques including spray-down systems and trowel-down microtopping systems.
Woodcrete
Woodcrete is concrete flooring that appears to look like hardwood. Hardwood floors appeal to many, but the grouts can be hard to keep clean, they're susceptible to scratches, and they can cost a lot to install. The perk of woodcrete is that it looks just like real wood, it has no grouts making it easy to clean and concrete is more durable than wood.
Start a

stained concrete floors project with us

If you're looking to improve your space, starting with flooring is a great idea. Whether you currently have concrete floors you're looking to enhance or if you're looking to install concrete floors, we can help! There is likely already a perfect slab of concrete under your flooring. Contact us today to talk about your project.