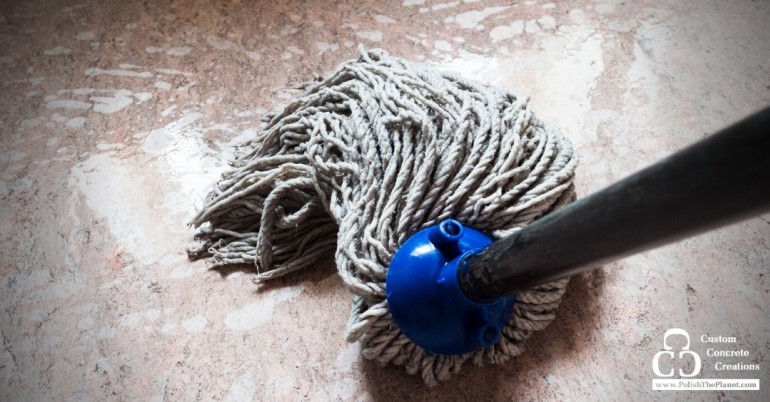 When customers walk into your business, what is their first impression? Commercial design plays a huge role in customer experience, along with other factors such as how clean your business looks and is. Although decorating your business' walls and renovating the entire design of your commercial building can greatly impact the impression of your customers, your building's floors are also something that will stand out to your customers.
At Custom Concrete Creations, we are your polished concrete specialist. Our goal is to provide you with the top quality commercial flooring services and advice you deserve. Below, we go over some simple commercial flooring care tips to help keep your business floors clean and looking good for many years!
Conduct hourly floor checks
One way to ensure your commercial floors are staying in good condition is by checking your floors periodically throughout the day. In commercial buildings like restaurants, retail stores, or other similar buildings, this is a great thing to do during "down times" throughout the day. When checking, make sure there are no spills that are left unattended. Spills seep into your commercial floors, causing stains that may require a flooring company to come and remove.
Install door mats or rugs near entry-ways
Another way to care for your commercial floors is by installing entry mats or rugs throughout your floors, especially in places that see a lot of foot traffic. Floor mats and rugs help catch dirt from customer and employees shoes, helping keep the rest of your floors clean. Although floor mats are not a magic solution to keeping your floors spotless, they are greatly beneficial in reducing the amount of dirt and debris buildup on your floors!
Clean daily
To keep your floors looking clean and damage free, cleaning is essential! Depending on your commercial building, it's a good idea to try and clean your floors each day! At the minimum, it's smart to sweep or dry mop your floors daily. It's then recommended to wet mop your floors at least once a week to ensure your polished concrete floors continue to shine!
Keep your floors sealed
Lastly, if you have polished concrete floors in your commercial space, it's very important that you reseal your floors when you need to. It's recommended that you reseal your polished concrete floors every two to five years, however, if your building sees a lot of foot traffic on a daily basis, it's a good idea to do it more often than that.
Sealing your floors helps prevent spills from penetrating your flooring surface, reducing potential stains. Sealants also help protect your floors from scratches, debris, and other objects. Not sure if your floors need to be resealed? Call a CCC polished concrete specialist today!
Whether you have a restaurant, retail business, or just a normal office building, it's important that you take good care of your commercial floors. Use these tips to keep your floors clean and long-lasting!

At Custom Concrete Creations, our polished concrete specialists are experts when it comes to all things concrete. If you are interested in installing new polished or epoxy coating concrete floors in your commercial space, we are here to help! Visit our website to learn more about our services.