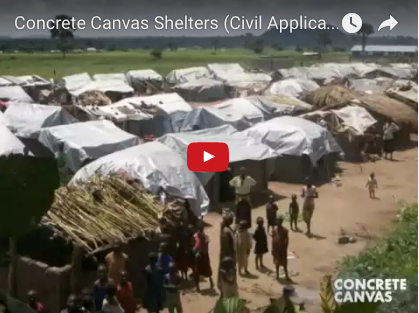 Concrete just got a little more amazing. There is now an award winning concrete canvas material that is activated by water that solidifies into different structures. The company Concrete Canvas makes just that, concrete canvases. They produce and sell their environmentally friendly material for many different uses. One of those uses are concrete canvas shelters. The shelters are rapidly deployable and requires only water and air to harden. Any water can be used to harden the material, even seawater. The company claims that the shelter has a design life of over ten years, the shelters are compared to tents which wear out quickly and need to be replaced frequently. The material is even fireproof, allowing the contents or people to be protected inside. The sealed plastic interior allows for a sterile environment, making it ideal for medical use in undeveloped areas.
The concrete canvas shelters are a one stop solution, which saves effort and costs throughout the lifetime of medium to long duration operations. The shelter is build by using a special inflation device. Using inflation creates a structure that is optimal for compressive loading. This allows the walls to be thin, but both robust and lightweight.
The construction of the shelter is also simple. It can be put up by two people in less than an hour and is ready to use in just 24 hours after that. It is also secure. As opposed to soft skin structures, such as standard tents, the shelter has a hard shell and doors that lock. This allows for a level of security that's not available with soft skinned tents. The shelter is also very durable, with a lifespan of over ten years this structure beats any standard soft skinned tents on the market. The concrete canvas shelter is also earth berming. Due to the structure allowing compression, it can withstand pressure from earth and sand to add insulation and thermal mass allowing for an optimal level of thermal performance.
The material is not only used to build shelters, but it is also used for erosion control applications, such as protecting slopes, lining ditches, and lining bunds. Concrete canvas has been used in multiple international projects including: KwaZulu Natal, South Africa to remediate the Mool River irrigation canal; Minas Geralis, Brazil to line a series of ditches along a railway; and Almina Portugal to line a lagoon to collect contaminated water from a nearby mine. It's uses can be preventative, remediative, protective, and more. Concrete canvas is not only friendly to the environment, but is useful in assisting mankind to avoid devastating events.
This is some awesome stuff in our books. Kudos to Concrete Canvas for creating this amazing technology.