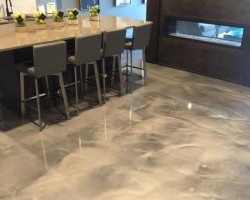 Concrete had become the popular choice of flooring materials for homeowners and designers throughout the United States, which is no surprise to us. Retail stores, office buildings, trendy restaurants, and homes with concrete floors are showing up everywhere. Concrete floor options are endless, unlike other flooring materials, and range from overlays, radiant heated, painted, microtoppings, acid stained, to personalized designs. Concrete floors is sometimes also referred to as cement flooring, which traditionally has been gray in color. This great thing is that concrete can now be anything that you want it to be. You can personalize with color, patterns, textures, saw cuts, and more! For photos of finished concrete floors click here.
One of the biggest benefits of having concrete floors is that they are affordable when compared to other flooring materials. If you already have a concrete slab it is very inexpensive to finish it. The cost of a basic concrete floor is comparable to the cost of linoleum, carpet, ceramic tile, or vinyl. However, concrete floors that are more detailed in design will be more comparable to the cost of marble, slate, high end wood, or granite. While the price of more complex concrete flooring is a bit more costly than basic concrete floors, the lifetime cost of these floors is much lower than the fore mentioned comparisons due to the durability and low amount of maintenance for upkeep over the years. For price estimates of different concrete finishings click here.
Another main reason that concrete floors have become so popular is because of the low maintenance and durability. A properly sealed concrete floor is easily cleaned with just a dust mop. When doing an occasional deep clean, water and a neutral cleaner is all that is needed. Typically in homes maintenance is needed less than somewhere with heavy foot traffic like restaurants and businesses. Places with heavy foot traffic may want to use a sacrificial wax on the concrete floors on top of the sealer to add more protection against abrasions.
Lastly, the other biggest reason that concrete floors are such popular choices today is that the color choices are endless. Using stained concrete allows you to achieve earth like tones and has become very popular for concrete floors inside homes and businesses. Staining concrete with earth like tones allows the concrete to blend with other elements in the room, sometimes you may not even know that the floor is made of concrete! Stains are one of the most popular choices for finishing concrete, but there are a lot of other coloring options available as well such as dye, paint, metallics, tinted sealers, and more. Concrete stains can also enhance designs, are a great choice in environments that have sand or snow, can be easily changed, and are a great choice if you have allergies (instead of carpet).
There are so many creative and custom options for finishing concrete, but first and foremost important is the concrete itself. At Custom Concrete Creations we have state of the art equipment and a properly trained team with years of experience. Custom Concrete Creations is a premier contractor serving the Omaha area as well at the Midwest. Give us a call or send us an email for your custom concrete finishing needs today!