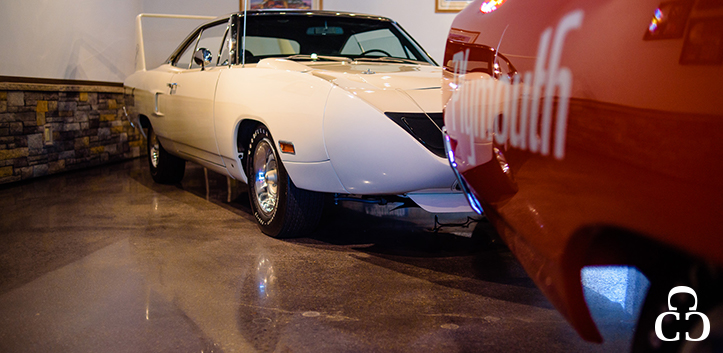 In high-traffic commercial spaces such as restaurants, offices, retail stores and hotels, polished concrete is a viable option for flooring. Concrete floors can withstand abuse more than other flooring materials and offer a wide array of options for the decorative side of things. Commercial and industrial spaces often have a higher demand for durability because they have higher foot traffic and need to protect from any sort of abrasion. They also need to be slip resistant to avoid injury and easy to clean for places like a restaurant that may experience food stains or spills.
Design Versatility
Concrete floors in high visibility areas such as retail stores or grocery stores have a large amount of options when it comes to decorative features. They can be patterned, stamped, polished with high gloss, or colored in virtually any way desired. Some floors even have designs that are used for direction or safety and colors that relate to the business. The newest trend for commercial concrete floors are metallic epoxies that give the floor a metal-like sheen. Polished concrete floors also provide overhead lighting a reflective surface and increase brightness in indoor spaces.
Durability and Longevity
Along with the design versatility, concrete floors will increase the strength, durability, and longevity of your floors. Concrete is stronger than many other comparable flooring materials and will last decades as opposed to deteriorating or needing to be replaced. Concrete floors will help to support heavy loads and resist mold, dust, and other problems that you may come across.
Low Maintenance
Concrete, especially polished concrete, is easy to clean and requires little to no maintenance. Regular polishing and coating are not needed because cleaning can be done with regular soap, water, and a dry mop. Maintaining concrete floors in commercial spaces will save you valuable time and money on repairs and maintenance.
Affordability
Despite the many benefits of concrete floors, they are still cost effective and easily attainable. The floors are also inexpensive to install and you will not have to plan on paying for replacements later on. For a complimentary quote from the professionals at Custom Concrete Creations, contact us today!
Because of its beauty, strength and reliability, thousands of people in commercial spaces choose concrete for their floors. Concrete can transform any space into the perfect setting and will exceed your expectations.
* * * * * * * *
Custom Concrete Creations is chosen to help facilitate projects because we are the preferred custom concrete floor company, not only in Omaha, but for the greater Midwest region. No project is too big or too small for our team of seasoned experts who use state-of-the-art equipment on each and every project. We help you achieve the look of your dreams and do not consider the job done until you are happy with the results. So give us a call or contact us for your custom concrete needs today!