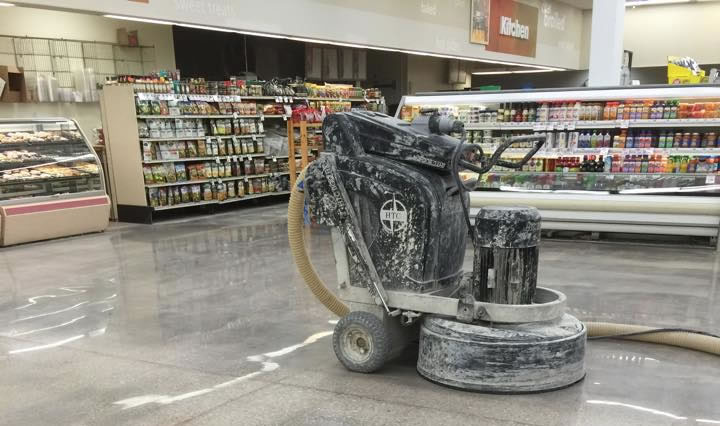 Grinders have discs that rotate horizontally to perform various duties, from removing paint and thin coatings to lightly texturing to allow the surface pores to open. The reason they are so versatile is because of the different grinding attachments. The attachments come in various types and grits to allow for multiple applications. Since grinders use rotation instead of impact to remove material, the amount of material that can be removed is restricted to about ⅛ of an inch, this also depends on which type of attachment is being used. This process generally results in a smoother profile than some other processes, and when working on dense and hard concrete grinders may polish instead of abrade the surface.
For larger areas, such as concrete slabs, you can use a walk-behind grinder which come in multiple sizes from single-disc units which are used for working on small or tight areas, to multiple disc grinders that are used for larger slabs in high production grinding. A single-disc grinder unit covers a width of 10 to 12 inches while a dual-disc grinder has a working width of 20 inches or more in one pass. The speed of the disc rotation ranges from about 250 rpm to over 3,000 rpm. On multiple-disc grinders, the discs typically counter-rotate to allow for balanced torque to prevent the grinder from pulling to the sides. Some units are equipped with floating heads to allow for more even grinding. The floating heads follow the contour of the surface and have adjustable rear wheels to keep the discs level. A choice of power options is also available through most manufacturers, these include gasoline, electric, and propane. Most units are built with vacuum ports to allow for dust-free dry grinding. Water mist systems are also available in some models so that they can be used with dry-cutting or wet-cutting attachments. Remote controls can also be added to the walk behind grinders for an additional cost.
Handheld grinders are also available to use for tight areas and hard to reach spaces where the larger units can't reach, like in corners and next to walls. These smaller units are available with grinding diameters that range from 5 to 12 inches. They can also be used to grind out imperfections on a variety of surfaces. Much like the larger units, handheld grinders come with a variety of accessories and can also be hooked up to an industrial vacuum to control dust.
The majority of today's grinders are capable of accomplishing multiple tasks and are typically more adaptable than other types of equipment used in surface preparation, particularly when it comes to decorative jobs. They are useful for profiling floors before applying paints or other thin coatings since they don't create ridges on the surface. Other tasks include breaking up dirt or industrial contaminants and grease deposits, as well as leveling high spots or uneven joints. Numerous contractors also use grinders to polish concrete with finer grit abrasives.
Having various attachments for your grinder will maximize the versatility of the tool and allow for more tasks to be completed with one machine. The most common types of grinding attachments are tungsten carbide inserts, silicon carbide impregnated grinding stones, and diamond segmented grinding blades. There are also are grinders that have scarifying attachments available to remove thicker coatings.
Silicon carbide stones are economical and available in multiple grits for fine or coarse polishing. They are ideal for rough finishes, smoothing trowel marks, or leveling high spots less than 1/16 of an inch. A downfall is that the stones can clog easily, so they are not ideal for removing most coatings. To remove surface coatings faster and with better efficiency tungsten carbide inserts or diamond grinding blades should be used. For materials more than 1/16 of an inch thick, tungsten carbide inserts are recommended. They have beveled edges that can strip thicker coatings without damaging the concrete. They work well for removing thick paints, adhesives, tar, industrial build up, rubber deposits, and resins. Diamond segmented abrasives are ideal for profiling work and removing thin coatings or high hardness coatings like epoxies and urethanes. The blade wears away during grinding continuously exposing new diamonds. The grit levels range from fine to coarse and have different bond hardness, diamond concentrations, and shapes. Always look for grinding discs that are easily replaceable to move easily between grit levels. (For more information on grinders click here.)
At Custom Concrete Creations we have state of the art equipment and a properly trained team with years of experience. Custom Concrete Creations is a premier contractor serving the Omaha area as well at the Midwest. Give us a call or send us an email for your custom concrete finishing needs today!