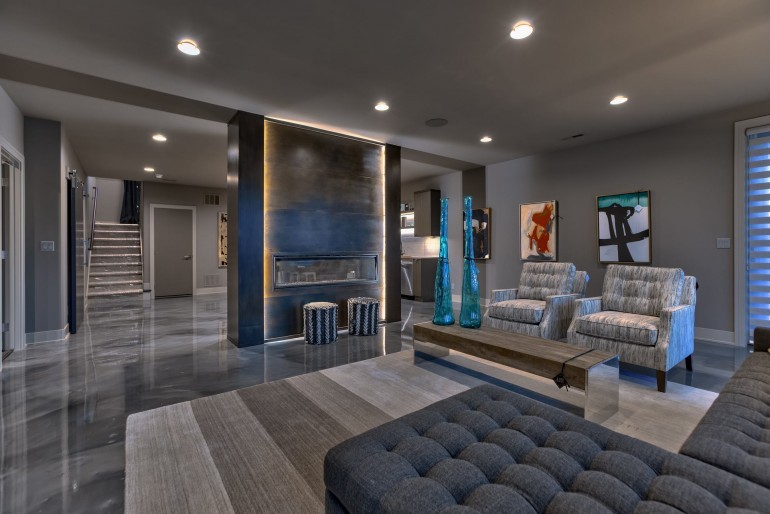 Businesses and industrial facilities have utilized concrete floors for ages, this is primarily due to the durability and low maintenance of concrete floors. There are so many ways to finish concrete nowadays that concrete floors have also become a popular option in residential areas. More and more homeowners are installing concrete floors into their new homes or are having their basement or garage floors finished. Why not have aesthetically pleasing floors that will last for years with little to no maintenance instead of plain, boring, slate-gray floors? It's affordable to have concrete floors finished too! There are all sorts of options available to finish your concrete floors. You can simply have them polished, so acid staining, do metallics, you can even make the concrete look like wood or marble! Since we've already covered wood concrete floors in another blog, let's focus on marble today.
There's just something about marble… It portrays elegance and a refined taste, and well we just think it's beautiful. Marble is a luxurious option that is seen in businesses and in extravagant homes and it is available in all kinds of shapes, sizes, patterns, textures, and designs, which allows it to complement the interior design of homes and businesses. Marble has been highly sought after for thousands of years and the reasons are obvious as to why. It's durable, high gloss, and has amazing color combinations. Wait… it's durable, high gloss, and has amazing color combinations? That sounds like concrete to us! Concrete is very durable, can be polished or coated to a high gloss, and a multitude of color combinations and patterns can be applied.
Concrete can be made to resemble marble so closely that you can't tell that it's not real marble! The color options are endless, which makes it ideal for any interior. You can have the appearance of elegant marble floors for half the cost of real marble floors! That's most likely the biggest downfall to real marble floors - the cost. The high cost of the material and labor makes real marble out of reach for many of us. Real marble floors can cost as much as $20 a square foot installed. The average cost of real marble is $15 per square foot, so that means if you have 500 square feet of marble installed that it will end up costing you a whopping $7,500! You can have your concrete floors made to look just like marble for about $6.50 per square foot. This means that if you need 500 square feet done of concrete it will cost $3,250, or half the cost of real marble.
On top of this phenomenal lowered price the floors are durable, can be colored to any desire. And are very low maintenance. If you desire the look of real marble, but don't think you can afford it, then consider concrete and give us a call today!
At Custom Concrete Creations we have state of the art equipment and a properly trained team with years of experience. Custom Concrete Creations is a premier contractor serving the Omaha area as well at the Midwest. Give us a call or send us an email for your custom concrete finishing needs today!