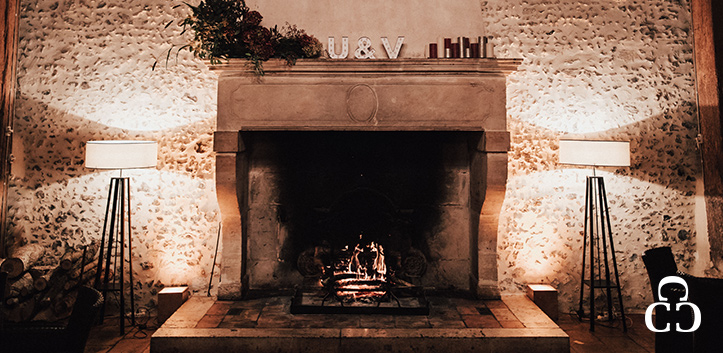 We specialize in polished concrete floors, which are becoming a popular residential flooring solution. Our blogs cover various types of custom concrete coatings.
This week, we're showing homeowners a different kind of concrete inspiration.
Concrete used to be thought of as a very plain, inflexible design material. These days, it's incorporated into home designs in creative ways.
We'll show you how concrete has more uses than just walls and floors!
Living room & fireplace
All cozy, functional living rooms should have this in common: a great fireplace.
If the living room is the center of a home, then the fireplace is important! It can serve as a statement feature in any home. Unique concrete touches can elevate the design of the room .
Concrete surrounds are popular options for upgrading existing fireplaces. These pre-cast hearths, pillars or mantles can be added to any living room with minimal demolition, depending on the room's layout.
If you want to revamp your home with a defining feature, floor-to-ceiling concrete walls can house a flat-screen TV and fireplace. This design requires a more involved construction process, but exudes luxury.
As an added bonus, concrete around your fireplace will get nice and warm when the fire's burning, helping to radiate even more heat throughout the room. Your living room can be a warm concrete fortress on those cold winter nights!
Kitchen & dining room
The beauty of designing with concrete is it can be cast into almost any shape or form you can imagine.
For a fraction of the cost of marble or granite, your concrete kitchen island or countertops could be cast with any additive color you choose. A dark, black concrete with flecks of gray or white would look great in any kitchen.
Glass-embedded concrete countertops are another great option. Concrete is poured into a mold and sprinkled with tempered glass chips to give it an interesting effect under kitchen lights.
Kitchen countertops that are concrete-cast can also handle many different custom concrete coatings. A glossy look is easy with an epoxy finish, as is a raw and unfinished appearance with a simple coat of sealant.
Patio and outdoor living
A patio doesn't have to be a dull concrete slab that looks like it fell off a truck into your backyard.
Concrete is a multifaceted material in terms of design, along with being durable and easily able to stand up to the outdoor elements. Stamped concrete can give the appearance of tile, stone or any other pattern you can come up with for a very reasonable price.
Adding a rock salt finish to concrete gives it a textured, detailed look that is great for outdoor bar areas or pool decks. The process is fairly simple and can even be done by the homeowner if they're also pouring new concrete. Chunks of rock salt are sprinkled into the fresh concrete. When it hardens, the concrete is sprayed with water which dissolves the salt and leaves lots of small pits behind.
As you can see, there's room for concrete in any home – no matter your budget or your living space. If you want to take things a step further and incorporate polished concrete floors into your newly-accented rooms, give us a call!
******
Custom Concrete Creations is chosen to help facilitate projects because we are the preferred custom concrete floor company, not only in Omaha, but for the greater Midwest region. No project is too big or too small for our team of seasoned experts who use state-of-the-art equipment on each and every project. We help you achieve the look of your dreams and do not consider the job done until you are happy with the results. Give us a call or contact us for your custom concrete needs today!