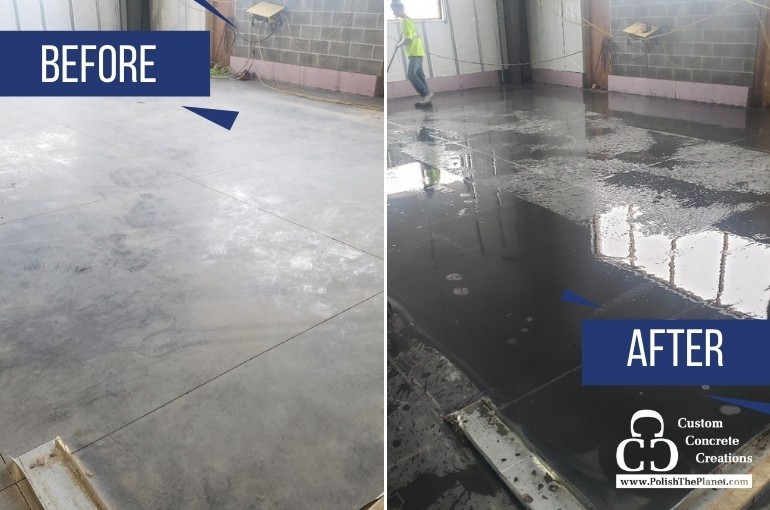 At Custom Concrete Creations, we offer a variety of flooring services, specializing in polished concrete flooring for commercial spaces. We have installed polished concrete flooring, epoxy flooring, stained concrete flooring, woodcrete, and more in a variety of commercial buildings. Whether it's a grocery store, auto body shop or warehouse, Custom Concrete Creations offers the best quality concrete flooring throughout the Midwest, including Nebraska, Iowa, Illinois and more!
We recently finished up a project at Edwards Auto Group in Council Bluffs, Iowa. Edwards Auto Group is a car dealership that also works on a lot of mechanical repairs. Their service center sees a lot of activity and can be damaged by a number of factors. That's one of the reasons why they went with polished concrete, to give themselves a durable flooring solution that is easy to clean and maintain. Below are some of the details about the project and how it ended up turning out!
We began this project by repairing and prepping the existing concrete floors in their service area. With auto repair comes a lot of wear and tear. To make the polish look the best, our team always takes their time to make sure the concrete is repaired and prepped prior.
After the concrete was all prepped, we began the polishing process. For this process, Edwards Auto Group chose to go with a cream polish. This color ended up turning out great as you can see below!
Polished concrete flooring gives commercial buildings like Edwards Auto a low maintenance, durable and cost-effective flooring solution they need! We loved how this polished concrete project turned out, and were very happy to have satisfied yet another customer!
Custom Concrete Creations offers many services to help your commercial flooring needs. From maintenance, repairs, floor removal, surface prep and polishing, we are your go-to polished concrete company. Contact us today with any questions or to learn more about our services.