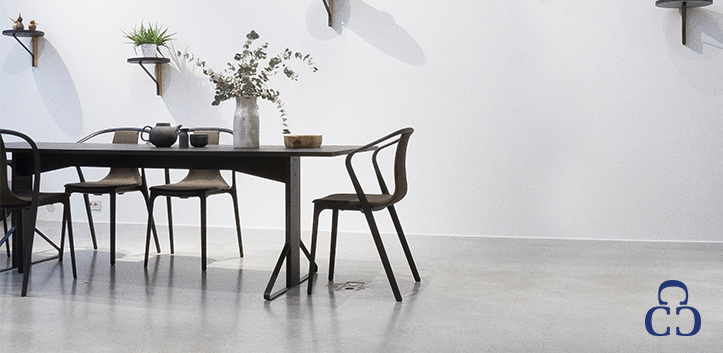 After dedicating a whole Pinterest board to the hottest custom concrete floors for businesses, it's time to start the flooring renovation. Don't know where to go from here? How about looking at two of popular options for business, epoxy and polyaspartic flooring. These two options are perfect for any business owner looking to update their flooring.
At Custom Concrete Creations, we offer the installment of epoxy and polyaspartic flooring. Now if you don't know how to distinguish between the two, no worries. We have more than seven years in the polished concrete flooring business. We understand that people don't know the difference between epoxy or polyaspartic flooring and that is why we want to explain each!
What is epoxy flooring?
Epoxy is the mixture of two components, resins and hardeners. When mixed they create a chemical reaction to form a potent substance. Epoxy flooring is perfect for commercial areas that have high traffic. Epoxy flooring is durable and long lasting. It is ideal for garages, stores, schools and restaurants.
The benefits of epoxy flooring.
You can see epoxy flooring in many homes and commercial places. Epoxy flooring is used in everything from stores, schools and offices. That is because epoxy flooring can satisfy all needs for homeowners and store owners. Epoxy flooring has many of benefits to offer.
It lasts a long time.
Epoxy flooring is ideal for any area that experiences much traffic like grocery stores and restaurants. Epoxy flooring is resistant against cracking and staining. It is much harder than acrylics, so that it can withstand much damage.
It can protect.
Epoxy flooring has a glossy finish that protects the concrete. The epoxy layer stops any stains from seeping in. Plus, it will prevent any water from soaking and causing cracking.
It can provide safety.
You want to provide safety to your customers that is why restaurants and commercial areas prefer epoxy flooring. The epoxy finish enhances the visibility in areas where there is little to no light. One big plus about epoxy flooring is the fact that it is hypoallergenic. Installing epoxy flooring in schools is ideal because there are many interactions and moving.
What is polyaspartic flooring?
Polyaspartic is a concrete coating and sealer. Polyaspartic is a type of polyurea, which is a viable material developed in the 1980s by Texaco Chemical Company. The polyurea creates a catalyst reaction to harden the materials.
Polyaspartic flooring is perfect for garages and commercial floors. For garages the process of installing polyaspartic flooring can take no less than five hours. The cost of fixing it in one whole day could be a little more. Installing polyaspartic flooring in any area in a commercial setting is ideal because it will resist stains and heavy abrasion.
The benefits of polyaspartic flooring
Polyaspartic can be added on any temperature. You do not have to plan for the perfect 80 degree weather to apply this to your floors.
It bonds to any concrete surface.
Polyaspartic flooring bonds to about any concrete surface, this is convenient because there is no need to redo the whole flooring from the start. These custom concrete floors will save your time and money!
Has a short drying time.
One of the reason many businesses choose a polyaspartic flooring is because of its quick drying time. Businesses do not want to worry about having to close down for a whole week or month to get the flooring installed. If businesses do this it will cost them income and keep buyers away. Polyaspartic provides you with a quick drying process of about a half hour.
Can fix cracks
Polyaspartic flooring can help cover existing cracks your concrete flooring might have. Because polyaspartic can bond to any form of concrete old or new, it is an easy option to install. Plus, it will give your existing concrete a consistent look.
Is epoxy or polyaspartic flooring better?
We recommend our customers both epoxy and polyaspartic flooring. It all depends on what benefits you are looking for your flooring. You could want something that needs protection from water, or perhaps you want an option that lets you customize the color and design of the floor.
Whatever your option might be both custom concrete floors offer great results to any interior. We can install your custom concrete floors with epoxy or polyaspartic finish. Not sure still which option would be ideal for your location, give us a call, and we can help choose the best fit!
___________
Custom Concrete Creations is chosen to help facilitate projects because we are the preferred custom concrete floor company, not only in Omaha, but for the greater Midwest region. No project is too big or too small for our team of seasoned experts who use state-of-the-art equipment on each and every project. We help you achieve the look of your dreams and do not consider the job done until you are happy with the results. Give us a call or contact us for your custom concrete needs today!