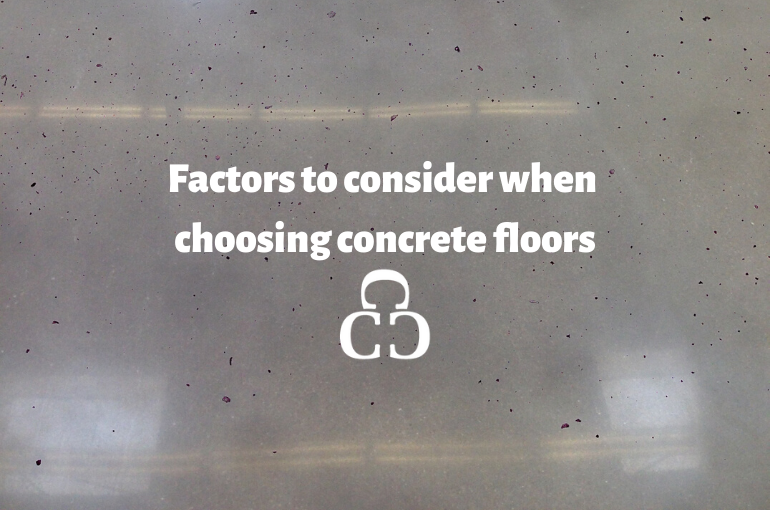 Concrete floors are probably one of the best flooring solutions on the market. They are durable, easy to maintain and available in different colors and finishes. Many businesses, especially those that require extreme durability, will go with polished concrete flooring over other options because it can withstand heavy foot traffic, heavy equipment and materials as well as drops and spills.
When choosing a flooring option, it is easy to make mistakes because there are many options that are useful for many different spaces. If the proper research isn't done, you could end up losing money in the long run due to maintenance or upkeep on the flooring option.
Be sure that when you are choosing your flooring, you take into consideration what the usage will look like, how dedicated you can be to cleaning and maintenance and what types of products will be in contact with the flooring. You should also think about what type of look you are going for and decide which flooring type will get you closest to your designed aesthetic.
When choosing your flooring, here are a few more things that you should consider when choosing concrete floor finishes.
Color
Concrete coloring can be done by either using pigments or stains. Pigments are easily added to the mixer with the other concrete ingredients. Pigments are confined to browns or tans although other colors such as blue, green and gray are also available. Concrete staining is done using acids or water-based acrylics. Acid staining provides similar colors to pigment staining, browns and tans. If you want to achieve a variety of colors such as black or white, then you should use water-based acrylic stains. A sealer is required in all cases to prevent the color from fading.
Budget
Like in any other case, you get what you pay for. Custom concrete designs with features like glass embed, divider strips, multiple colors and textures cost more money. However, if you decide to use a basic design, the prices are more affordable. Most companies charge per square meter, so the size of your space will also determine the overall cost.
If you have a lot of foot traffic, you need to choose concrete floors with additional slip resistance to avoid accidents. Concrete floors with a broom finish are more slip-resistant compared to other finishes. For a more luxurious finish, polished concrete floors with a marble stain are a good option. You should take into consideration what types of activities will happen on this surface and what would be the most appropriate material.
Size
Concrete flooring is charged per meter squared, and since some finishes are more expensive than others, the size of your space, as well as your budget, can determine the type of finish you choose. Troweling, which is basically smoothing concrete, is more affordable for large industrial spaces.
Texture
Textured floors are used to provide a specific type of finish to a space. Salt finish, for example, is commonly used in swimming pool decks while an exposed aggregate finish is used for sidewalks. Stamped concrete allows you to achieve different designs without having to use the specific building materials required. For instance, you can get a brick finish by stamping concrete.
If you are looking to implement a polished concrete floor into your space, give us a call and we can help you choose and design your perfect flooring!