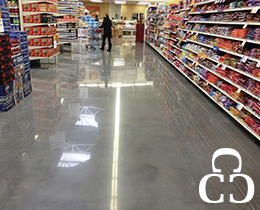 Back in August, we put the spotlight on our Industrial Installation Highlight (and drone footage!) by showing you the newly polished concrete floors at a brand new Hy-Vee location in Shakopee, Minnesota. We at Custom Concrete partnered with Hy-Vee Construction, Project Superintendent Chuck Danner, and SILEX Custom Concrete Solutions to install the flooring. Custom Concrete is the preferred polisher of Hy-Vee Construction, producing 90% of their work. All 65,000 square feet were polished using a combination of both a traditional walk-behind planetary grinder and an active planetary ride-on power trowel. Using these tools, we worked diligently to achieve the specified gloss levels without sacrificing overall quality. We find that this system maintains its high level of refinement better than other products that are on the market. Traditional methods can produce up to 3,000 square feet a day, but our walk-behind method can cover 6,000 square feet and the ride-on produces 10,000 square feet per day. (Thanks SILEX!)
We are super excited to announce that this project is now in the running for the Concrete Surfaces Polished Concrete Award. This award recognizes the industry's most impressive and noteworthy projects. All of these awards show consumers why you should choose these top-of-the-line products, techniques, and contractors to work with. All entries are on the Concrete Surfaces website and winners will appear in the January issue of Concrete Surfaces. You can view our entry here and learn more about the contest here.
Check out some pictures of the finished product:
*******
Custom Concrete Creations is chosen to help facilitate large projects such as this one not only because we are the preferred custom concrete floor company of Omaha, but also the greater Midwest region. We have state-of-the-art equipment and a very experienced and reliable team with years of experience under their belt. We help you achieve the look that you wish to reach and don't leave until you are happy with the results. So give us a call or contact us here for your custom concrete needs today!