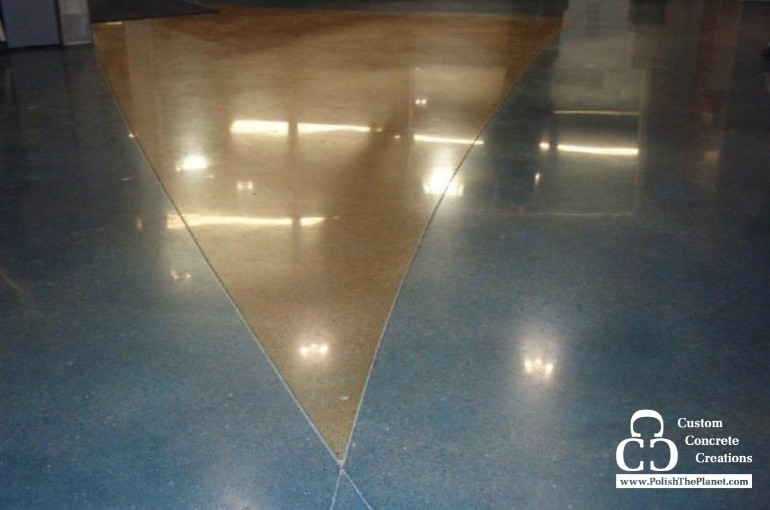 Colored concrete floors have opened new possibilities in the world of design and construction. There are several methods used to color concrete, including stains, dyes, pigments and color hardeners. We wanted to go over the advantages and disadvantages of each, as well as provide cost breakdowns and the best applications. Here are some insights on how to apply them effectively!
Stains
Concrete stains are a popular choice for coloring concrete due to their ability to create unique, translucent effects that mimic natural materials like stone or marble. Here's what you need to know about concrete stains.
Advantages
Stained concrete is versatile, penetrative and creates a natural look. Concrete stains are available in a wide range of colors, offering unlimited design possibilities. Stains penetrate the concrete surface, creating a long-lasting, fade-resistant color. They also enhance the natural texture and appearance of concrete, adding depth to the surface.
Disadvantages
Color control can be difficult with staining concrete. Achieving precise color matching can be challenging with stains, as they react differently to every concrete surface. Properly preparing the concrete surface is crucial for successful stain application. Stains may be more expensive than other coloring methods, especially for intricate designs.
Cost
The cost of concrete staining can range from $2 to $10 per square foot, depending on the complexity of the design and the chosen stain.
Application
Surface preparation involves cleaning the concrete thoroughly. The stain is then applied using brushes, rollers or sprayers. After allowing adequate drying time, a sealer is applied to protect the stained surface.
Stains are suitable for both indoor and outdoor concrete applications, including floors, countertops, patios and driveways. Stains are perfect for achieving natural, artistic or marbled effects.
Dyes
Concrete dyes offer vibrant and intense colors with greater color control compared to stains. Here's what you need to know about concrete dyes.
Advantages
Dyes offer vibrant colors, easy color blending and quick drying. They provide bright and concentrated coloration, making them ideal for bold design statements. Dyes can also be blended to create custom colors. By penetrating the concrete quickly, dyes also reduce overall project time.
Disadvantages
Dyes are UV sensitive, meaning they may fade over time when exposed to sunlight, requiring periodic maintenance. The choice of color is also somewhat limited compared to stains.
Cost
Concrete dye application ranges from $2 to $5 per square foot, depending on the complexity of the design and the number of colors used.
Application
Dyes are typically mixed with water or solvents and applied using sprayers or brushes. After application, a sealer is used to protect the dyed surface.
Dyes are most suitable for indoor concrete surfaces, such as floors, countertops and decorative elements. Dyes are great for businesses seeking bold branding colors or unique design elements.
Pigments
Concrete pigments offer consistent and long-lasting colors, providing uniformity in the concrete's appearance. Here's what you need to know about concrete pigments.
Advantages
Pigments are cost-effective, and they offer color consistency and UV stability. Pigments deliver uniform color throughout the concrete, minimizing variations. They are highly resistant to fading when exposed to sunlight, and they are also generally more affordable than stains or dyes.
Disadvantages
Pigments have fewer color choices compared to stains or dyes. Proper integration of pigments with the concrete mix is crucial for even color distribution.
Cost
The cost of concrete pigment application ranges from $1 to $5 per square foot, depending on the project size and the chosen pigment.
Application
Pigments are mixed with the concrete during the batching process. Ensuring thorough mixing is essential for even color distribution. The concrete is then poured and finished as usual.
Pigments are ideal for outdoor applications, such as sidewalks, driveways and facades. Pigments offer cost-effectiveness for larger areas with uniform color requirements, so they're great for large commercial projects.
Color hardeners
Color hardeners are applied to the surface of freshly poured concrete to create a durable and vibrant color layer. Here's what you need to know about color hardeners.
Advantages
Color hardeners offer deep colors, durability and quick setting. Color hardeners offer intense and consistent coloration. They enhance the concrete surface's strength and wear resistance. Color hardeners dry rapidly, reducing project time.
Disadvantages
Proper preparation is crucial for successful color hardener application. Color hardeners have fewer color choices compared to stains or dyes.
Cost
The cost of color hardener application ranges from $3 to $6 per square foot, depending on the complexity of the design and color choices.
Application
After the concrete is poured and leveled, the color hardener is broadcast over the surface. It is then worked into the concrete using a float or trowel. Once the color hardener sets, the concrete is stamped, if desired, and a sealer is applied for protection.
Color hardeners are ideal for commercial properties with heavy foot traffic, such as hotels, retail stores and parking lots. Color hardeners work well in conjunction with stamped concrete to create realistic textures and patterns.
Let us provide you with

colored concrete floors

We can help you achieve exceptional results and transform your commercial or industrial property into a vibrant and visually appealing space that leaves a lasting impression. Contact us today to discuss installing colored concrete floors!