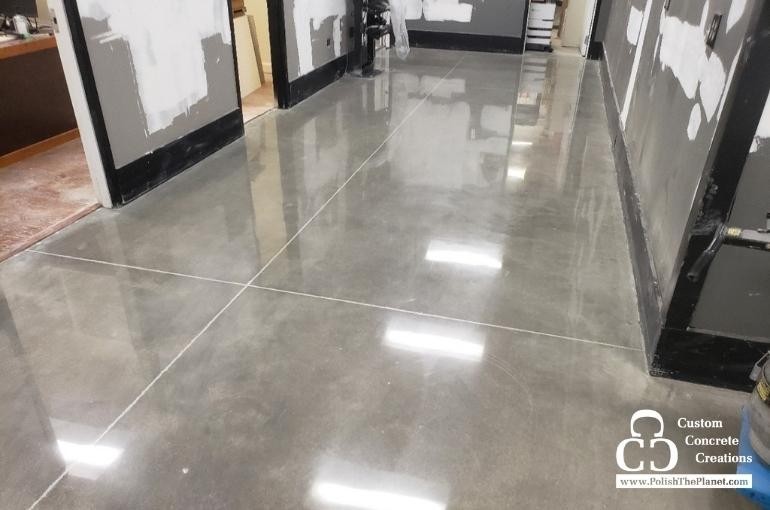 In any commercial building, whether it be an office building, warehouse, restaurant, hospitality building, school, or anything else it may be; proper sanitation is key. When it comes to keeping a commercial building clean, there are many strategies and plans that businesses incorporate to do so. All in all, keeping your commercial building clean and sanitary is very important for the health and wellbeing of your employees and your customers.
When it comes to keeping your commercial building clean, one of the toughest areas to do so is your flooring. Floors can become pretty dirty every day. Depending on the material of your floors, cleaning can take some time.
At Custom Concrete Creations, we offer a variety of commercial flooring solutions, and specialize in polished concrete floors. Polished concrete is a great flooring choice for commercial buildings, and is very easy to clean, maintain and keep healthy and safe. Below, we discuss why polished concrete can create a more sanitary space in your commercial building.
Why choose polished concrete?
When people choose polished concrete, it is usually because it is super durable. Polished concrete floors can withstand tons of wear and tear, which makes it a great option for places with heavy foot traffic. When you have a space like a hospital or a restaurant that will need to sanitize and clean up spills pretty often, durability is important.
Ease of maintenance and care is also key in hospitality-type buildings. No one likes to spend hours and hours cleaning up after their customers and employees, so many choose polished concrete floors. It is very easy to take care of, keep clean, and ultimately provides a clean and safe environment for everyone involved.
How is polished concrete sanitary?
The reason why polished concrete does such a good job of keeping spaces sanitary is because of the way that it is finished. Because the concrete is grinded down and then a sealant is placed on top, there are no pores, cracks or grout for dirt, germs or bacteria to sit. When cleaning the polished concrete, you do not have to worry about cleaning out any small spaces or cracks like you would in tile or linoleum. The finish on top of the concrete is seamless.
Something that is very common in restaurants due to heavy amounts of spilling and excess moisture is the growth of mold and mildew. This can be difficult to avoid when you have flooring that has cracks and rugs that will retain moisture. Polished concrete creates a surface that makes it virtually impossible for mold to grow. Because of the seamless surface, you will not have to worry about mold and mildew growing and making your employees or guests sick.
Having to spend hours of time and money on cleaning your floors is something no business wants to do. Luckily, by installing polished concrete, you will be able to save time, money and energy, all while providing clean, healthy and safe floors for both your customers and your employees.

At Custom Concrete Creations, we are your polished concrete experts. If you have any questions regarding the installation or maintenance of polished concrete floors, do not hesitate to reach out to our team today.