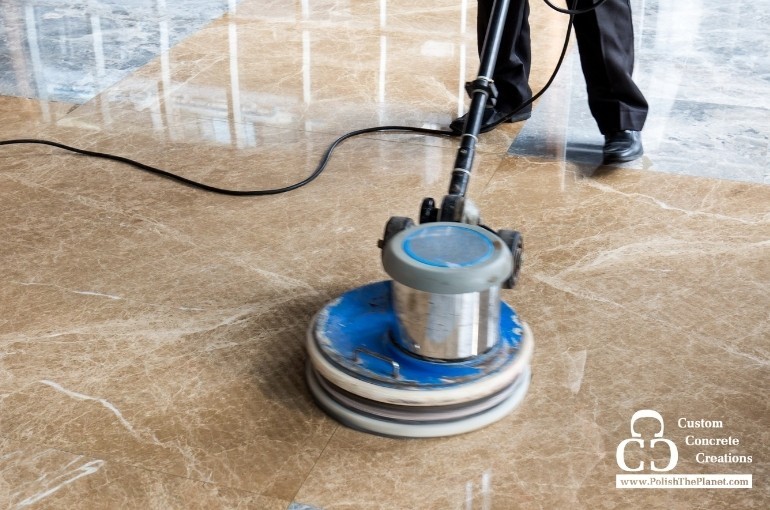 Restaurant floors can seem like they are nearly impossible to keep clean. From the main dining room to kitchens, bathrooms and more, the amount of foot traffic and food restaurant floors see on a daily basis keeps restaurant employees constantly having to clean up. This is one of the reasons why polished concrete flooring is so beneficial in restaurants.
At Custom Concrete Creations, we have installed polished concrete kitchen floors in many commercial kitchens and restaurants. In this blog, we discuss the best ways to clean your polished concrete kitchen floors to keep your restaurant clean as well as save you money and time!
Why use polished concrete floors in your restaurant?
Hygienic
Polished concrete floors have a seamless surface, meaning there are no cracks for bacteria to start growing in! With the amount of food and liquids that restaurant floors see, this is a great solution to keeping your restaurant clean and as germ-free as possible!
Durable
Restaurant floors see high volumes of foot traffic on a daily basis. Luckily, polished concrete is one the most durable flooring materials available, and is very hard to scratch or chip!
Tolerates moisture
Lastly, polished concrete is a nonporous material, meaning it's resistant to moisture! If you encounter a spill, you will never have to worry about your flooring becoming damaged!

How to clean polished concrete kitchen floors
If you own or have worked in a restaurant, you probably understand how easily the floors can become dirty. Here are some tips to help you save time and keep your restaurant floors looking nice at all times.
Come up with a cleaning plan
To stay on top of your dirty floors, it is essential that you have a cleaning plan in place. In the plan, you should include: when to clean, what to clean, which tools and products to use, and how often to clean. Having this written down and visible for all employees will help ensure that the floors are getting cleaned properly and regularly.
Here is an example of a simple step-by-step cleaning guide:
Sweep the entire floor each night

Mix anti-slip and degreaser product with water

Wet mop the entire floor each night
Remove grease
When cleaning your kitchen floors, you may notice that there is a lot of grease buildup from cooking. Grease can be difficult to remove from your floors, and your floors will never be squeaky clean until it's all removed. The first step to removing grease from your kitchen floors is to mop using a degreaser product mixed with water. By doing this, you should notice a cleaner floor, however, this isn't the only step to take. If you still notice stubborn grease stains on your floors, you may need to take a stiff bristle brush to your entire floor. Doing this will help get all of the grease off of the surface, and make it a lot easier to mop up!
Restaurant floors can become dirty very quickly, but by implementing a regular cleaning plan, your polished concrete kitchen floors will stay clean and perform as they should. Use these tips to keep your restaurant floors looking great for your customers!

At Custom Concrete Creations, we are experts when it comes to commercial concrete floors. To learn more about our services and how we can bring reliable flooring solutions to you, visit our website today!