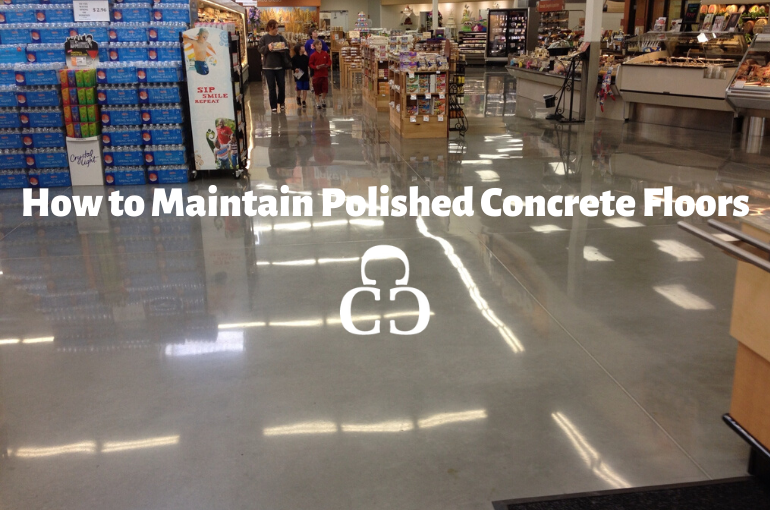 You just got the concrete floors of your dreams installed. You love your new concrete floors. You want to keep them looking as new as the day they were installed. Thankfully there is not all that goes into keeping your concrete floor from looking brand new.
Polished concrete flooring is easy to maintain when compared to other flooring options. Other flooring options like wood floors need constant waxing, polishing and yearly deep cleaning.
At Custom Concrete Creations, we specialize in installing polished concrete creations floorings. We know the work that it takes to install concrete flooring. We want to keep the floorings we installed for you worth the money and time you invested. It is recommended to have your concrete floors resealed every two to three years to keep them long lasting. Let us share a few tips to keep your polished concrete floors looking like new.
Keep to a regular maintenance schedule
One of the biggest keys in keeping your polished concrete floors in their best shape is to make sure you are staying vigilant when it comes to keeping them clean and free of harmful debris and chemicals. This type of schedule should include daily sweeping (preferably with a microfiber cloth) to clear the floor of dirt, dust and hair. This will prevent abrasions to the polish. You should also consider mopping daily with clean water to remove any dirt or stuck on particles. Using pH neutral materials is only needed occasionally when there is tougher grime stuck to your floors. Using pH neutral cleaning supplies is important because harsh chemicals like ammonia, bleach or vinegar can deteriorate and discolor the concrete.
Clean up after any spill.
An easy way to prevent stains from covering your brand new polished concrete flooring, is cleaning up after a spill. You could be having your morning cup of coffee when you loosen your grip and you end up dropping your mug on the concrete flooring. Leaving a spill like coffee on your concrete flooring could leave a horrible stain. We recommend that you quickly grab a clean paper towel to soak up anything before it gets soaked into the floor. Then go over the spill again with a wet paper towel to remove any excess coffee.
Use a microfiber.
If you have any kind of animal or a lot of traffic in and out of your home, you will want to consider using a microfiber. Microfiber contains more than 200,000 fibers per inch which means that it is incredibly absorbent and much more effective than other cleaning choices.
Mop, mop, mop
Polished concrete creations are easy to keep clean but it's important to maintain them. Mopping weekly with clean water can help tackle the dirt that can build up! You will want to mop your concrete flooring in sections to get the dirt off.
Schedule a resealing every two years!
One important way to keep your polished concrete flooring looking like new, is having it resealed every couple of years. This process can ensure your concrete is not trapping any water that could crack your concrete. If you do happen to find any cracks we also provide a rejointing service. We can patch up and fix any cracks before they create a huge problem.
Polished concrete is an excellent way to make your interior design stand out while also getting the benefits of a low maintenance floor that is durable. Taking good care of your polished concrete requires a small dedication of time, but it is worth it to show off your beautiful floors. Call us today if you need help with your polished concrete, are looking to install some polished concrete or need some repairs done!
___________
Custom Concrete Creations is chosen to help facilitate projects because we are the preferred custom concrete floor company, not only in Omaha, but for the greater Midwest region. No project is too big or too small for our team of seasoned experts who use state-of-the-art equipment on each and every project. We help you achieve the look of your dreams and do not consider the job done until you are happy with the results. So give us a call or contact us for your custom concrete needs today!