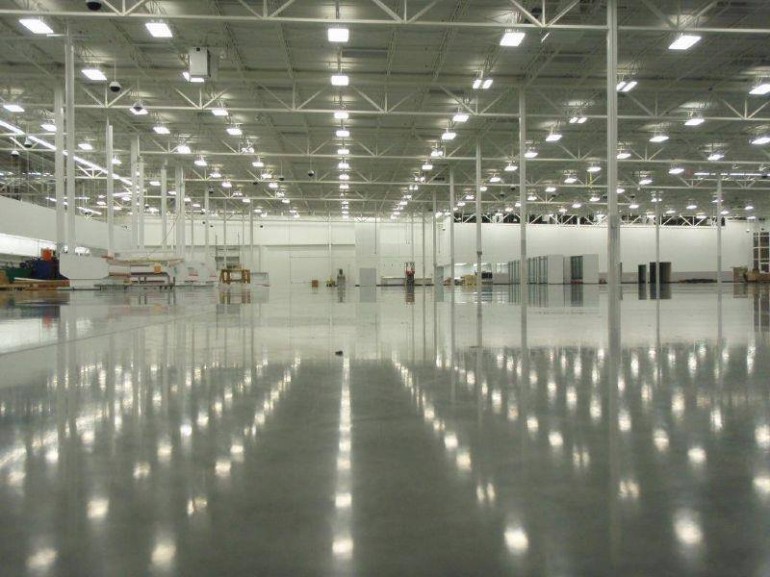 Here at Custom Concrete Creations we specialize in polished concrete floors for both our residential and commercial/industrial clients throughout the Midwest. For both residential and commercial/industrial we have a variety of options including C3 rustic wood crete, C3 diamond concrete floors, C3 metallic concrete floors, and C3 signature garage floors, so no matter what your need, there's something at Custom Concrete Creations for you!
Less often talked about though are our commercial/industrial clients. Recently, we partnered with Hy-Vee to install concrete floors at their new location in Des Moines' central business district. The store, set to open February 28th, will not only be the first grocery store that has resided in the downtown central business district in years; it is also the first time Hy-Vee has attempted utilizing a downtown location. This new and exciting endeavor will be a huge leap for Hy-Vee as they are transitioning from being a traditional grocery store to one that has a variety of different restaurants to suit customer needs (in addition to experimenting with a downtown location).
This build comes just months after a successful collaboration with Hy-Vee Construction in which we assisted in the installation of concrete floors at their new Eagan location. Custom Concrete Creations is proud to be a part of so many grand changes. We are chosen to help facilitate such massive projects because not only the preferred custom concrete floor company of Omaha but the greater Midwest region as well.
There are so many creative and custom options for finishing concrete, but first and foremost important is the concrete itself. At Custom Concrete Creations we have state of the art equipment and a properly trained team with years of experience. Custom Concrete Creations is a premier contractor serving the Omaha area as well at the Midwest. Give us a call or send us an email for your custom concrete finishing needs today!