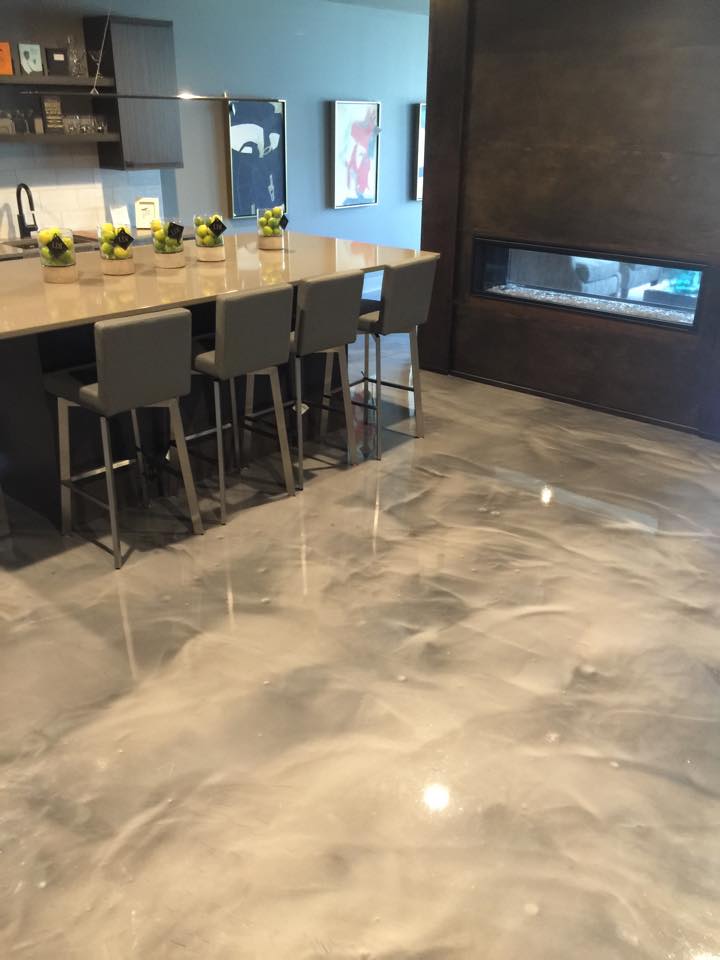 It's time to welcome concrete indoors. That's right, concrete isn't just for driveways and patios anymore. In fact, over the past few years utilizing concrete in interior design has become a popular choice to keep up with the ever growing trend of desired contemporary, modern, and industrial esthetics which make for very stunning results. Utilizing concrete in floor and countertop installations not only provides a sophisticated and bold interior look, but it has a variety of benefits for your home. Not convinced yet? Let's discuss some of the many benefits of the residential use of concrete that the growing number of homeowners using concrete love.
When it comes to concrete floors there is so much to love about concrete. Concrete floors are customizable, this is a win in the realm of interior design. Are you going for a contemporary industrial look, try polishing concrete or using a subtle stain. Do you want a bold and dramatic appearance? Try a dark stain or metallic epoxy finish such as black. Want an elegant look? Try using metallics to mimic the look of marble. Feeling rustic or natural? Concrete can be made to look like stone or even hardwood floors.
That's not all either. On top of all the great looks achieved by concrete one of the best reasons to choose concrete is the durability and strength of the flooring. This makes concrete floors a long lasting and low maintenance option, which compared to other flooring options that need to be maintained or replaced, is a wonderful option for homeowners. Heating elements can even be installed in concrete when it's being laid to make the floors a comfortable temperature on your feet all year around and even saves on energy costs. Even better yet, due to the longevity of concrete floors the costs of concrete floors ends up saving a lot of money over the life of the material when compared to other materials such as carpeting, tiles, and hardwood. And the ease of cleaning and maintenance makes it a concrete floors a definite plus. The occasional polishing and sealing is the most that needs to be done, other than that just simple sweeping and mopping.
Concrete countertops are also the latest trend. As with concrete floors, the design options are endless. Also, as with concrete floors, concrete countertops are durable and strong. They are actually rated among the lowest maintenance and most resilient types of countertops on the market. Concrete countertops are heat, water, and scratch resistant, unlike many other types of countertops materials. Concrete countertops also rarely if ever chip and keeping them maintained by wiping them down with soap and water will help prevent minor damage. One of the most alluring parts about concrete countertops is that the cost is one of the least expensive options of typical countertop materials on the market in regards to the life of the concrete countertops. Only man made materials such as laminate are more affordable, but lack esthetics. Also, materials like laminates won't last very long and can become easily damaged compared to concrete.
There are so many creative and custom options for finishing concrete, but first and foremost important is the concrete itself. At Custom Concrete Creations we have state of the art equipment and a properly trained team with years of experience. Custom Concrete Creations is a premier contractor serving the Omaha area as well at the Midwest. Give us a call or send us an email for your custom concrete finishing needs today!