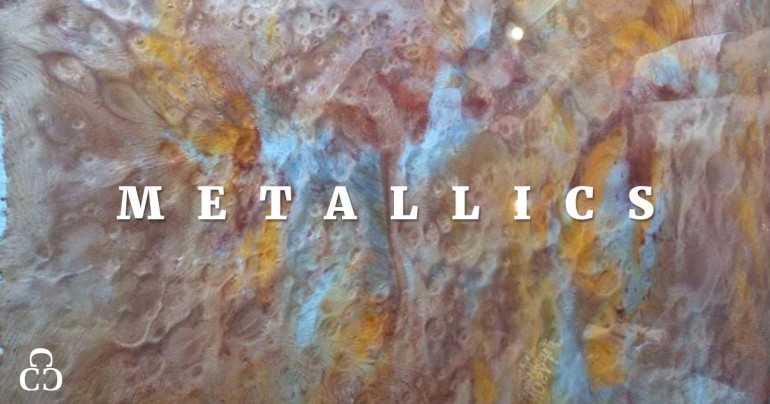 As you may know, concrete flooring has a number of design options. Among the nearly limitless choices is metallic epoxy flooring. This is a very popular finish for concrete floors because of the unique look and color combinations.
Pure metallic floor coatings are 100% solid and two component epoxy. In order to get a metal finish, there is a specially formulated epoxy with a pearlescent pigment. It is applied using a roller or a squeegee on the poured concrete. This type of coating requires a primer, a metallic 100% solid epoxy basecoat with a UV resistant urethane or a 100% solid epoxy clear coating.
A metallic epoxy finish will leave your floor looking like it has a smooth, glasslike finish with a reflective sparkle. Because there are so many options, no two floors will ever be the same. The look of a finished metallic epoxy floor appears almost three dimensional to the human eye. Some people compare the resemblance to moon craters, lightning strikes, or shimmery glitter paint depending on what you choose. The metallic epoxy floor disadvantages are few to none and the benefits outweigh them entirely.
Cost
Metallic epoxy floors are actually cheaper than over decorative or stained flooring systems with the unmatched durability and sustainability of concrete. Many buyers on the market are looking for a reliable and affordable alternative to other flooring methods without having to sacrifice their bank account as well as quality. Metallic epoxy flooring offers just that!
Installation
Applying a metallic epoxy coating is a simple process. All that needs to be done is a primer coat, a base coat, and any of our techniques that you have to choose from. You are in complete control over the creative aspect of your custom concrete floor.
The results achieved with metallic epoxy flooring cannot be duplicated by any other coating method. A metallic finish reflects light and in turn increases reflectivity in your space. It adds dimension and depth to your concrete. The use of metallic epoxy is high-tech and offers a multidimensional effect unlike any other resinous flooring.
* * * * * * * *
Custom Concrete Creations is chosen to help facilitate projects because we are the preferred custom concrete floor company, not only in Omaha, but for the greater Midwest region. No project is too big or too small for our team of seasoned experts who use state-of-the-art equipment on each and every project. We help you achieve the look of your dreams and do not consider the job done until you are happy with the results. So give us a call or contact us for your custom concrete needs today!