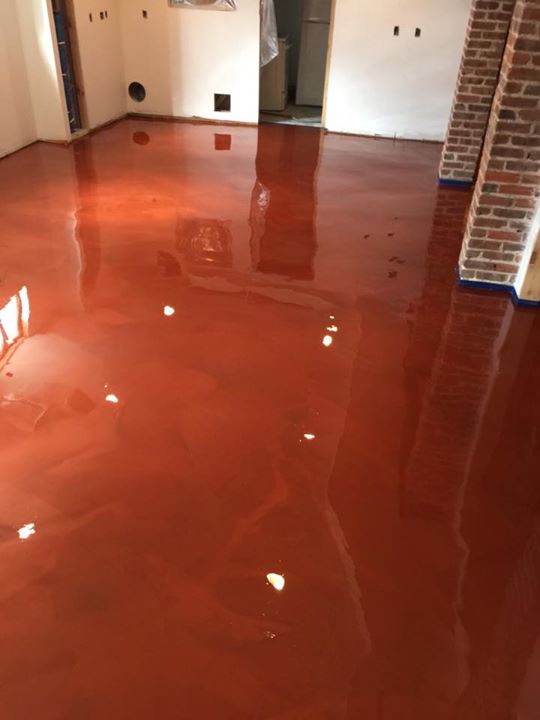 Stain- Stains offer a unique and luxurious look that sets them aside from other mediums. The look depends on the techniques used and the surface that they are applied to. There are two types of stain: water-based acrylics and acid-based acrylics. The stain gets absorbed into the surface during a chemical reaction with the calcium hydroxide within the concrete. This lets metallic salts to be absorbed better. After the reaction is complete the stain is permanently part of the concrete and will not peel, chip, or fade.
Dyes - Dyes have a very small particle size compared to stains, which allows for better color saturations and absorption by the concrete. You can use solvent-based or water-based dyes. Solvent-based offer a more uniform appearance in color and water-based have more of a marble like appearance.
Polish- Trending more with businesses and even homeowners these days is polishing concrete. Polished concrete is appealing aesthetically as it can resemble the look of linoleum, tile, or granite due to the shiny and smooth appearance. The levels of shine can also be controlled. Polished concrete provides a low maintenance option of flooring.
Decorative- The use of metallics or stencils on concrete can add a lot of character to any space. Stencils can be used to create textures and shapes to customize your concrete and make it unique. The use of metallic epoxies can replicate the look of shimmery shades such as aged bronze, silver, copper, nickel, and more. (Click here for more decorative ideas.)
There are so many creative and custom options for finishing concrete, but first and foremost important is the concrete itself. You want to make sure that it is properly leveled before finishing the concrete. At Custom Concrete Creations we have state of the art equipment and a properly trained team with years of experience. Give us a call or send us an email for your custom concrete finishing needs today!