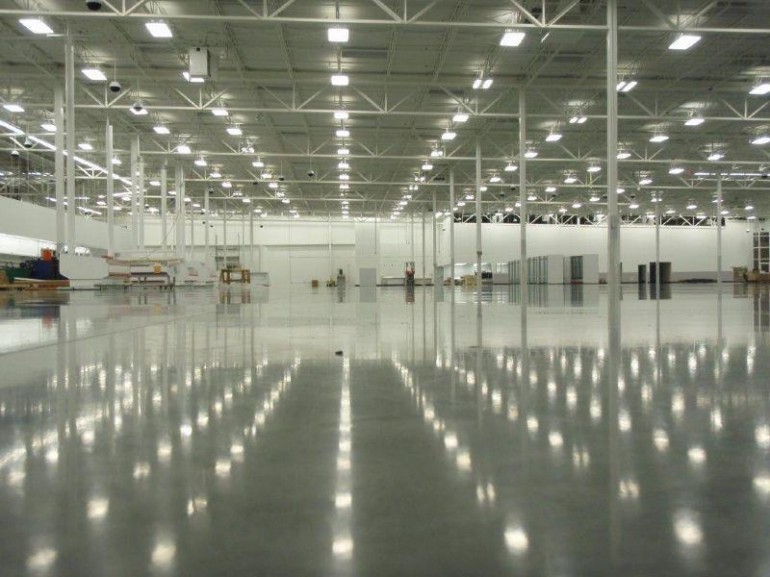 Polished concrete floors are very popular in the retail, commercial, and industrial world. Typically, companies choose to polish the existing slab of concrete, which can result in exposure of any existing imperfections such as, spalled areas, patchwork, or tack holes. Even after polishing, these flaws will show through. Also, when it comes to decorative work, options are limited mostly to only topical color, such as stained concrete. A solution to the aforementioned problems is to install a concrete overlay to eliminate any unsightly flaws and to provide more decorative options.
The main reasons that overlays are becoming a popular choice are because overlays cover up the existing problem floor to achieve a seamless and smooth floor, and to add decorative features such as saw cuts or a colored aggregate to create a terrazzo like finish. The turnaround time isn't bad either. In just 24 hours the floors can be covered in a new and flaw free overlay. Even better, concrete overlays can be applied to almost any hard surface, such as concrete, tiles, and terrazzo. The overlay can be colored or decorative coatings can be applied as well. Overlays create an economical choice that is mold and mildew resistant as well as environmentally friendly.
It is important to choose a contractor that has experience in overlays. It is very important to correctly install an overlay and properly preparing the surface that the overlay is going over is key. The surface preparation step of installation is the most time consuming step and if it isn't done right, then the floor will possibly wreak havoc on the overlay in time. It is important to remove any unsound concrete, residual tile mastic, or any other debris that may be present before applying the overlay. Sandblasters and grinders are often used to remove any debris.
The timing is also a very important step to the process. This is also where experience comes into play. An experienced contractor will know the importance of the timing when pouring the overlay, when the seeding needs to be applied, when any sawcutting needs to be done, as well as when to polish the overlay and apply dyes, densifiers, or coatings. After the overlay is down the process of polishing is pretty straight forward. Regular concrete polishing equipment can be used. It is also suggested to use a planetary grinder on overlays and to begin polishing no later than 24 hours after the overlay was installed.
Overall, the process is only about five steps and is definitely worth the work. Overlays, done properly result in a seamless, shiny, and visually pleasing polished concrete floor, which is a great alternative to having unsightly flaws show through.
There are so many creative and custom options for finishing concrete, but first and foremost important is the concrete itself. At Custom Concrete Creations we have state of the art equipment and a properly trained team with years of experience. Custom Concrete Creations is a premier contractor serving the Omaha area as well at the Midwest. Give us a call or send us an email for your custom concrete finishing needs today!