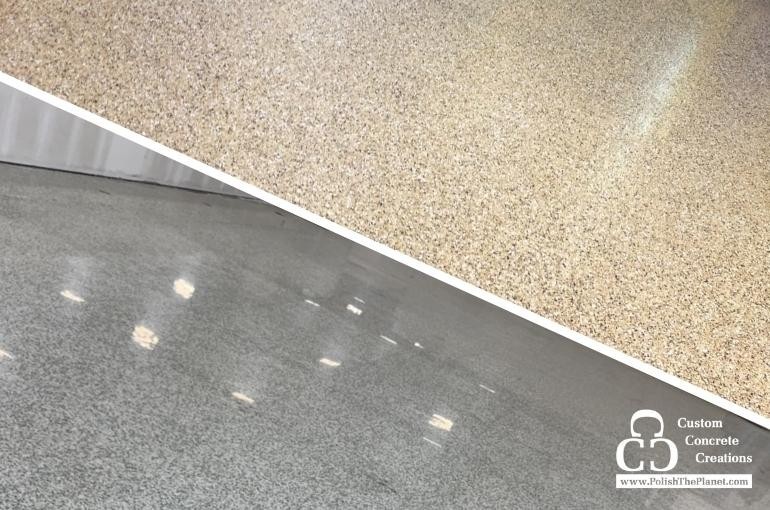 When it comes to interior concrete flooring, there are two choices that have gained the most popularity: polished concrete and epoxy coatings. Both of these concrete flooring types offer great benefits, but also many differences as well.
At Custom Concrete Creations, we provide custom concrete coatings and installations in commercial buildings. We have worked on a number of different projects for a number of different businesses across many industries, and know what floors work best in different spaces! Below, we explain the differences between polished concrete and epoxy coatings and discuss which one is better for your space!
Polished concrete is one of the most popular concrete flooring options when it comes to commercial architecture. Polished concrete involves polishing the surface of the concrete, creating a shiny smooth finish. Polished concrete can be created in many different colors to match the interior design of your commercial building. Polished concrete is also very durable, easy to take care of and clean, and can even improve the energy efficiency of your building!
Although there aren't many, there are still a few drawbacks to using polished concrete flooring. Polished concrete can be louder than other flooring materials, as well as needs to be sealed regularly to prevent moisture from penetrating the concrete and causing damage.
Epoxy coatings
Epoxy flooring is an option that is added at the end of the flooring process, and epoxy flooring is often known as an epoxy coating because of when it is installed. This coating goes over current and new concrete flooring options to protect the floors and give a different look than traditional polished concrete flooring.
An epoxy custom concrete coating can mimic wood or natural stone tile flooring to give that unique look to the commercial and industrial flooring space. Epoxy floors are also known for providing the utmost durability. Some of the other benefits of epoxy floors are: they are slip-resistant. sustainable, low maintenance, cost-effective, and can handle heavy equipment and machines!
What spaces are better for each?
So now that we know that polished concrete and epoxy coatings offer many similar benefits, let's look at what spaces are best for each one!
Polished concrete:
Polished concrete is great when used in areas that see a lot of foot traffic daily due to its durability and low-maintenance. Below are some great places to install polished concrete floors!
Supermarkets

Churches

Schools

Restaurants

Commercial offices

Retail stores

And more!
Epoxy coatings:
Epoxy coatings are most common in higher traffic areas, or areas that see more "rough" activity. Below are some examples of where to install epoxy coatings:
Residential garage

Auto Body shop

Car dealerships

Warehouse

Maintenance centers

Other similar buildings

Although polished concrete is used in different applications, they are honestly not too different from each other! If you are considering what concrete flooring type to choose for your next project, don't stress yourself out! Give us a call whenever you have a question regarding custom concrete coatings, and our team will be happy to answer you anytime!