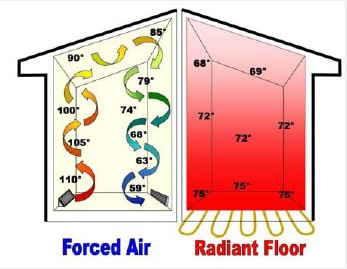 Although radiant heating systems are more expensive to install than forced air systems, they actually retain heat better and are more economical than forced air. The amount of savings varies by location, how well insulated your home is, the source of the fuel, the severity of winters, and the layout of the radiant heating system. The majority of homeowners can save 10-30% on energy for commercial installations according to the Radiant Panel Association, and up to 60% or more savings is possible. Following are some other ways you can save money with radiant heat in your home.
The American Society of Heating, Refrigeration and Air Conditioning Engineers (ASHRAE) conducted studies that show that with the use of radiant heat, people can be comfortable with temperatures that are 6 to 8 degrees lower than comfortable temperatures maintained by forced air or baseboard heat.
More heat is lost with forced air heating systems due to the heat staying mostly in the upper half of the room, this is because the majority of heat loss happens in the upper half of the room. This is one reason why radiant heat is so great. With radiant heating systems the heat is retained in the lower half of the room where the body needs it the most, unlike with forced air. Because of this you will be able to keep the temperature two to four degrees lower comfortably, and save money on heating bills. Typically, 10% to 30% is the projected range of savings. If your home has high ceilings then there is more savings due to heat staying lower in the room as opposed to being lost more quickly with forced air.
According to the Hydronic Heating Association, with hydronic radiant heat, a volume of water retains about 3,500 times the heat that is required of the same volume of air to raise the temperature. This also allows you to run your thermostat at a lower temperature than forced air. So again, this will save you money on energy bills when compared to forced air heating. You would need a 10x18 inch duct for forced air heat to equally heat a room compared to only one inch diameter tubing carrying heated water throughout.
Radiant heating also allows you to optimize energy efficiency by heating different areas or zones of the home at different temperatures. This allows you to heat colder or higher use areas such as bathrooms more than other areas that may not need as much heat.
If you have an electric radiant system, not a hydronic one, it can save you money on bills by taking advantage during off peak periods which have lower rates if your electric company utilizes them. So basically, you would heat up the floor at night, which are the off-peak periods, and then turn the heating system off during the day. Concrete retains heat well, so the heat is released gradually over time even if the heating elements are turned off. It is important to note that the opposite is also true of concrete, especially with thick slabs. Just like concrete retaining heat for long periods of time, it can also take many hours to heat up all the way due to having a slow thermal response time. If this is the case it can limit how long you have between off-peak periods. (Click here to find a radiant floor installer.)
There are so many creative and custom options for finishing concrete, but first and foremost important is the concrete itself. At Custom Concrete Creations we have state of the art equipment and a properly trained team with years of experience. Custom Concrete Creations is a premier contractor serving the Omaha area as well at the Midwest. Give us a call or send us an email for your custom concrete finishing needs today!