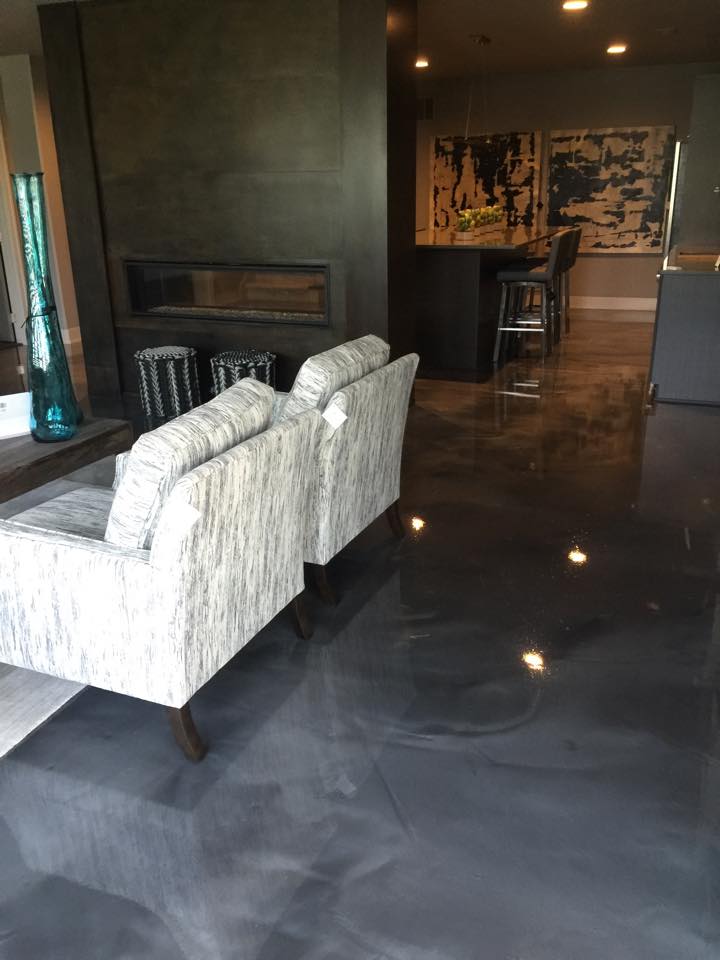 Concrete isn't only for driveways and sidewalks anymore! More and more people are installing concrete floors in their homes or polishing existing concrete. Concrete is versatile and can be finished in a number of ways. With numerous color choices, stains, aggregates, and textures available the options are endless. Concrete floors can be customized you your design needs! Cleaning and maintenance of concrete floors is a breeze, the floors are very durable and water resistant when sealed properly. If you are installing concrete floors you can install radiant heating elements at the same time which will cut energy costs!
Your options include multiple color varieties that are applied to the concrete by using various techniques. You can use integral color, which is color added during the mixing of the concrete. Stains are available to give more of a translucent finish. If you're looking for a more vibrant hue, then dyes are available for the job as well as paint, you can paint concrete any color you want. When it comes to the surface you have options too! You can trowel concrete, have it smooth, or even polished to your desired level of shine. Concrete can also be stamped to look like tile or even hardwood floors. Aggregates are also an option when it comes to concrete floors which can be polished down as well, however most homes use a fine concrete mix when installing concrete floors.
Another perk to having concrete floors in your home is that concrete is green. Think about it, you can have floors that looks just like hardwood floors without cutting down a single tree! Concrete floors do not use natural resources, concrete is made locally, and less energy is needed to lay concrete floors than any other type of floor. Concrete is also good for the air quality inside because it is mold, mildew, and odor resistant as well as containing zero potentially harmful VOCs. Zero-VOC sealers are also available.
Other things to consider about concrete floors in a home is that they can be used in any room really. They are ideal for kitchens, basements, bathrooms, living areas, and entryways. They are super low maintenance, easy clean, durable, and long lasting. You can use gentle cleaners as well as vinegar to clean the surface and use a broom, mop, or vacuum regularly. Another big perk to having concrete floors is that they are pet friendly! Concrete floors are pretty much the gold standard for floor choices when it comes to pets. Unlike with hardwood floors, concrete floors resist liquids (from the water bowl or from the pet if you know what we mean), scratches from pet claws, and they won't absorb any smelly pet odors. Of course a pet bed of some sort should be provided to little Fido for comfort.
So, basically concrete floors are totally awesome and a great choice for homes! I mean seriously, what other choice provides you with durable, stain proof, water resistant, smell resistant, customizable, low maintenance, affordable, and customizable floors? Concrete is fire and bacteria resistant as well. Concrete is very hard however, so I would suggest rugs in areas that require long periods of standing and most likely if you drop something fragile it's going to break. So, just be extra careful and you'll be just fine!
At Custom Concrete Creations we have state of the art equipment and a properly trained team with years of experience. Custom Concrete Creations is a premier contractor serving the Omaha area as well at the Midwest. Give us a call or send us an email for your custom concrete finishing needs today!