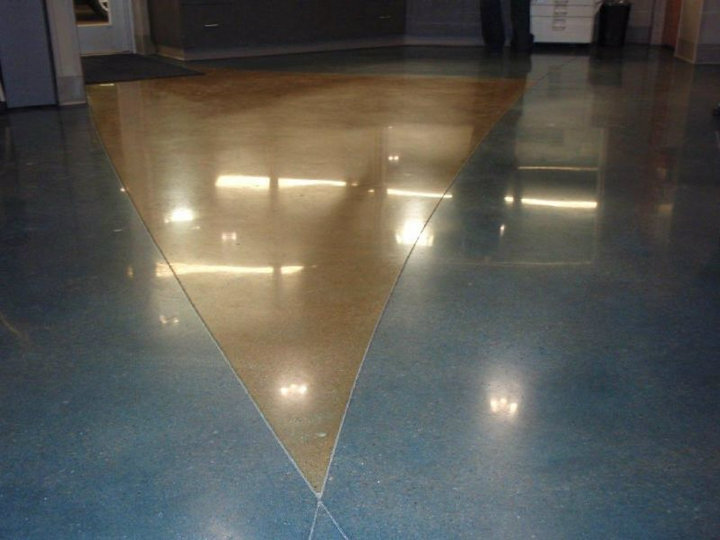 Out with the old and in with the new! A great motto that also applies to concrete. Concrete used to be plain and boring, today concrete is fun and exciting! Well, we think so anyway! Concrete is now frequently used as a decorative medium. It is more affordable than stone and masonry, and can be made to look just like it! There are so many options for decorating concrete that you can achieve practically any material you want. Anywhere from wood to natural stone to marble. Today we're going to talk about scoring circles into concrete, a bit more complex task than scoring straight lines. It may seem like a very challenging undertaking, but it doesn't have to be so bad. There are expensive specialty devices and tools that can help you make perfect circles in concrete, but you don't really need them.
Here is what you will need:
A circle stencil or a template
Chalk or a pencil
A brush or a broom
A measuring tape
A dust mask
Ear plugs
Safety glasses
Heavy duty vacuum with a hose
Diamond circular grinder blade that is 4 inches
Handheld grinder (4 inch)
Next we'll briefly discuss the steps:
First you will need to brush or sweep any loose debris from the concrete.
Next, you will place a circle template or stencil on the concrete where you desire to score it.
Use the chalk or pencil to trace the circle onto the concrete, then remove the stencil.
Place the four inch circular grinding blade to the standard four inch hand held grinder.
Measure ¼ of an inch toward the center of the blade from the outer edge of the blade, this is how deep you will grind into the concrete. The grinding depth is approximate because marking the blade at ¼ of an inch will likely not stay on long. It's good to have an eye for measurements here.
Next is where safety comes into play. Put on your safety glasses, earplugs, and mask. This process creates a lot of dust and loud noise, so it's very important to protect yourself.
Use the grinder to carefully and steadily cut into the stenciled side of the circle on the concrete. Move it forward slowly, carefully following the traced on circle pattern. Remember to try not to grind deeper than ¼ of an inch because going too deep can cause the concrete to crack.
Lastly, you will vacuum up the excess concrete dust and voila! You have yourself a scored circle. A tip for larger circles is to stop and vacuum occasionally to keep the drawn on line visible. (For more information on grinding circles into concrete click here.)
There are so many creative and custom options for finishing concrete, but first and foremost important is the concrete itself. At Custom Concrete Creations we have state of the art equipment and a properly trained team with years of experience. Custom Concrete Creations is a premier contractor serving the Omaha area as well at the Midwest. Give us a call or send us an email for your custom concrete finishing needs today!