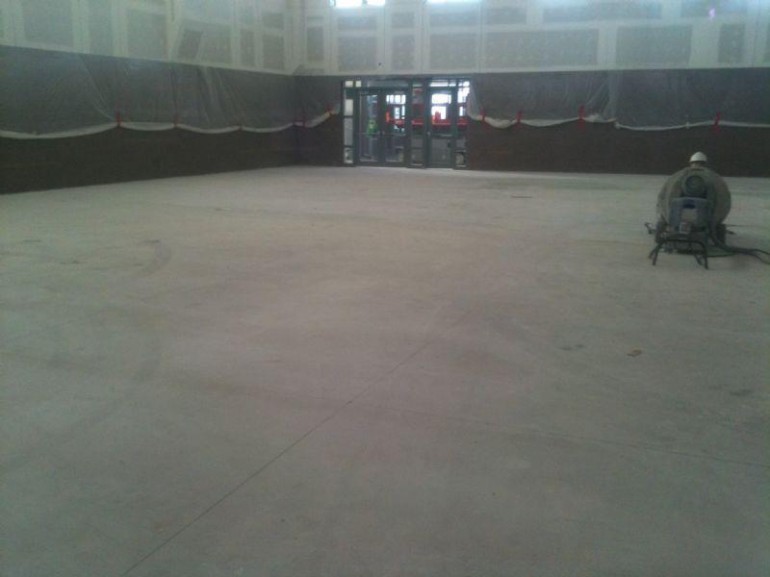 Are you considering laying self leveling concrete over a large area of 75 square feet or more? If so, this will give you an idea of what you will need to expect. Typically, self-leveling concrete is designed to dry very fast. This is especially true for most brands found in large home improvement stores. The biggest task when using self-leveling concrete is going to be how fast it dries. It's difficult to get to the center or to wall-bound areas in larger areas once the pour has began.
Although most self-leveling products claim to be self-leveling they are only self-leveling to an extent. Best case scenario for this is to use a minimum thickness that is consistent over an entire surface, we recommend about ½ of an inch. Using self-leveling concrete becomes more challenging in larger areas that tend to have differences in the height of the surface.
When preparing for a larger area we recommend purchasing a self-leveling concrete with a longer drying time. There are products available that offer a 15 minute dry time instead of the usual five minute dry time you will find with products from home improvement stores. The 15 minute drying time self-leveler will most likely need to be purchased from a distributer. Trust us, you don't want to try to use a five minute dry time leveler on a large area, the end results won't be pretty.
You will need to have multiple people for a larger job. We recommend five people for a job of 225 square feet, especially if no one is experienced with self-leveling concrete. With some experience you can get away with only four people, but I would recommend no less than that. When doing very large jobs, it is a good idea to break up the pours over multiple days.
Make sure to plan the pour in advance and to prepare all materials needed for the job. For a pour in a large area to be successful you want to make sure that the planning is done prior to mixing the self-leveler. Once the mixing has began you have a time crunch before the floor begins to dry.
Typically the tools needed for a self leveling job are the self-leveling concrete, buckets, and drills. We recommend using at least four 5 gallon buckets for the job, but the more the better. You will want to have a few heavy duty power drills with heavy duty 18 inch drywall mixing blades. Make sure to use a powerful drill and appropriate sized mixing blades, do not use cordless drills or small mixing blades or you may be out a drill and not have properly mixed self-leveler. You will want something to help spread and level the concrete, you could use a painter's extension pole with a mounted squeegee on the end. We recommend cutting slots out of the squeegee for spreading the self-leveler.
It is important to make sure that the room is prepped prior to the pour. Make sure that the area has good borders, you may have to put in temporary borders for the pour, especially if you are breaking the job up into sections. You will want to prime the concrete slab for the self-leveler. Most self-levelers have directions to follow for this step. When you are ready to pour fill the buckets with the specified amount of water for one bag of self-leveler. We recommend to mark the bucket with the amount of water needed and to use this as a guide for the rest to make the job easier. You will want to rotate through the buckets throughout this process, so this is where more buckets come in handy. You will want to have the bags of self-leveler opened and ready to go, this will help the flow of the job and prevent you from killing time fumbling around with the bags. Have your drills assembled with blades and ready to go ensuring that they are functioning properly before pouring the self-leveler into the water. Also, ensure that the cords are not in the way of the area to be poured.
Finally, you are ready to begin the actual process of mixing and pouring. It is important to make sure that everyone know their responsibilities for this part. Typically, you will have two people mixing, one person spreading, and two people with two duties which are pouring the dry mix into the water for the mixers and pouring the mixed leveler onto the floor for the spreader. The spreader has a very important task of making sure the floors are actually leveling like they are supposed to since the product doesn't do this on it's own entirely. The function of the team as a unit is critical for getting the job done right.
At Custom Concrete Creations we have state of the art equipment and a properly trained team with years of experience. Custom Concrete Creations is a premier contractor serving the Omaha area as well at the Midwest. Give us a call or send us an email for your custom concrete finishing needs today!