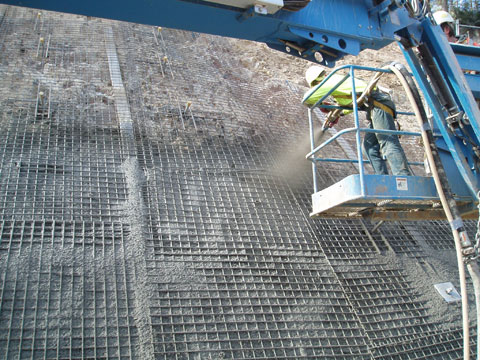 While Custom Concrete Creations specializes in concrete floors, we love all things concrete. What better way to build concrete walls than with a concrete spray gun. This is done using was has been termed as shotcrete, a way to cast concrete walls in place. Fresh shotcrete mix is sprayed directly onto erected wall panels that form a building and can be applied to any surface that fresh shotcrete will adhere to, e.g. steel, wood, or polystyrene. The spray nozzle can be used to build walls, floors, and even roofs.
There are many advantages to spray shotcrete for walls, it works well on curved surfaces, it's fast, and it's affordable due to needing less materials and the quickness of the construction. Spray shotcrete walls are very strong and durable, and are fire, mold, and insect resistant. Shotcrete makes tight envelopes, has good thermal mass, and very little permeability.
There are two common types of walls used with shotcrete. One is a insulated sandwich panel and the other is plain, uninsulated walls. With insulated sandwich panels, the panels are prefabricated and made of polystyrene insulation between two sheets of wire mesh. The mesh is connected by galvanized wire that has been welded to create a truss-like support system. This type of wall also allows the concrete to have more thermal mass benefits. With plain walls there is no insulation, there is only the reinforcement that is covered by the concrete. With this option, insulation can be added on either side of the walls after the shotcrete is applied.
Concrete walls are actually lightweight, which may lead one to believe that they are not strong and should not be used for multi-level structures. This is actually false, although the walls are lightweight, they are very strong and durable and depending on the system used can go up to twenty stories high. When constructing multi-level structures, items other than wall panels are used, like prefabricated mesh and foam landing panels and stair assemblies. Shotcrete is applied to these items in the same way that it is applied to wall panels.
There are two options when applying shotcrete to forms. Both ways require a spray gun, but one option is to use a wet mix and the other is a dry mix. The result are the same with either option, but the equipment used varies a little. With the wet mix everything is mixed together well and the mix is placed into the spray gun for application. In the spray gun the wet concrete is pumped through the nozzle, where compressed air forces the material at a fast rate onto the desired surface.
With dry mix, damp materials or pre-mixed dry materials are put into the spray gun. Again, they compressed air forces the material through the nozzle where water is added. Then the material is placed onto the desired surface with the same results as the wet mix.
The main difference between regular concrete and shotcrete is that with regular concrete you have water, aggregates, and cement. There are chemicals that can be added to regular concrete to enhance the material and the process. Silica fume increases the compressive and flexural strength as well as reduces permeability and rebound levels, increases resistance to water washout and alkali and chemicals, and allows single pass applications to be thicker. Air-entraining admixtures help shotcrete in the wet stage of the process by improving pumpability and adhesion as well as improves the durability of freeze-thaw cycles in wet and dry methods. Fibers are added to help improve strength, impact resistance, and energy absorption as well as control for any cracking. Accelerators also help provide thicker one pass applications especially in negative conditions which helps place the concrete. This also helps reduce the amount of fall outs on structures that undergo periods of vibration.
Even when the shotcrete is still fresh finishes can be added. Finishes like paint can also be added to add color. Cement based material can be added in a layer by plaster or spraying to provide low maintenance and other color options and it bonds well and is durable. Stucco, brick veneer, or manufactured stone or thin brick can be applied to the exterior walls. If used on an interior surface, shotcrete can be furred out or left exposed.
At Custom Concrete Creations we have state of the art equipment and a properly trained team with years of experience. Custom Concrete Creations is a premier contractor serving the Omaha area as well at the Midwest. Give us a call or send us an email for your custom concrete finishing needs today!