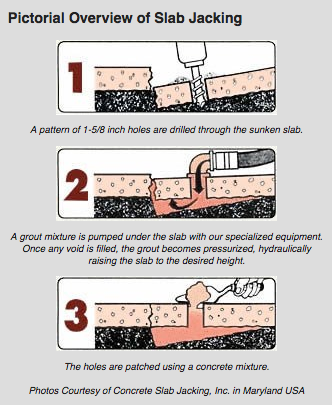 Since we love all things concrete, we thought that we would talk about slabjacking some more. Actually, since we've already talked about what it is and the process, we thought we'd look into the tools and materials needed for the job. Let's start with the tools.
A rock drill, grout mixer, and grout pump are the basic equipment needed for slabjacking. It is important to keep the equipment well maintained and in good working order so that equipment failure can be avoided. Equipment failure can cause problematic complications if you are in the middle of a job.
Rock drill- A rock drill or a coring machine prevents dust and breakout in the lower part of the slab. The drill bit should consist of four points, and should be controlled to make sure that the holes are not out-of-round. A common tool for this process is a gas powered rotary percussion drill with a 2- or 2 inch diameter bit.
Grout mixer- Typically, grout mixers are high speed colloidal shear mixers or similar. They are able to produce a consistent lump free mixture. A mortar mixture should suffice for smaller jobs. At least a 7-cubic foot capacity with a 10 horsepower engine mixer should be used, it should be able to withstand heavy use. The grouts consistency needs to allow a consistent flow of the material below the slab to ensure proper distribution of the grout for an even lift. Grout mixers are put through a lot of heavy work, this often causes extra maintenance and downtime.
Grout pumps- Usually grout pumps are either hydraulically operated progressive cavity pumps, positive displacement hydraulic piston pumps, or air operated double diaphragm pumps. The pump chosen for the project should be able to deliver pressure ranging from 1 PSI to 100 PSI, as well as the ability to distribute the grout consistently and uniformly. A minimum of 60 GPM should also be possible from the pump chosen.
Materials needed are the grout, which consists of Portland cement, water, and a mixture of limestone dust, additives, and fly ash or sand. Unless specified otherwise, type 10 normal Portland cement is used. The cement typically ranges from 5% to 20% by weight of dry materials, this depends on the time required for setting.
So, yeah, now you know a little more about what is required for slabjacking. If you want to read our blog on the process for more information click here.
There are so many creative and custom options for finishing concrete, but first and foremost important is the concrete itself. At Custom Concrete Creations we have state of the art equipment and a properly trained team with years of experience. Custom Concrete Creations is a premier contractor serving the Omaha area as well at the Midwest. Give us a call or send us an email for your custom concrete finishing needs today!