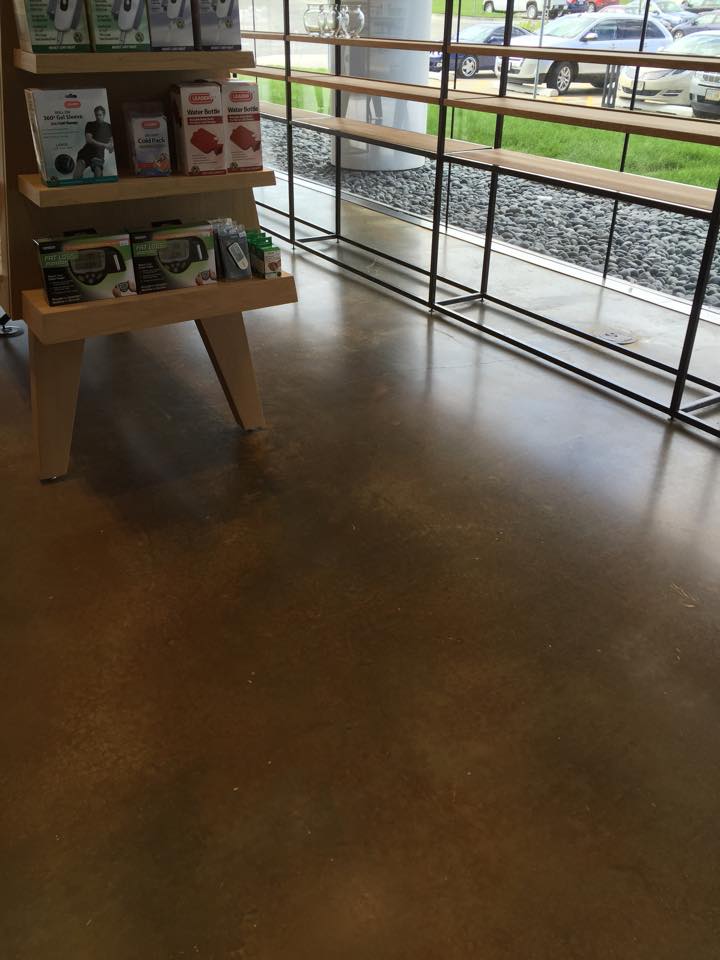 Are you considering stained concrete and have some questions about it? Well, you're not alone. Here are some frequently asked questions about staining concrete.
Why should I stain my concrete?
Stained concrete is an appealing option due to the vast customizable decorative effects and the affordable cost. Special effects and endless color options for both indoors and outdoors are available for as little as $2 per square foot. Stain is different than adding color like paint does, it is absorbed by the concrete which infuses it with deep and rich translucent tones. The looks can also be mottled to give the floor a unique appearance. Each concrete floor that is stained is unique, even if the same stain is used on another concrete surface it won't look exactly the same. This is due to the way the concrete absorbs the stain and the age, the composition, and the porosity of the concrete.
Can I stain concrete myself?
When applying stain it is important to know the proper application techniques because the color is permanent and once you apply the stain there is no going back. You should also be familiar with the required tools used when applying stain. It is recommended to hire a contractor who is skilled in staining concrete and has experience with applying multiple layers and creating more elaborate effects.
Can all concrete be stained?
The short answer is yes. Both water-based and acid-based stains can be applied to old or new and even integrally colored concrete. Stain can be applied to anything from concrete floors and countertops to driveways and pool decks. The main thing to consider is the surfaces condition. If there is any type of coating on the concrete such as glue, sealers, or grime then the stain will not be able to penetrate the concrete to achieve color development fully.
What kind of color options will I have with stain?
Stain color options depend on if you're using a water based stain or a acid based stain. Color options are limited with a acid based stain. Typically manufactures only offer about eight acid based hues which are mostly earth tones like browns, tans, terra cottas, and soft blue greens. While these color options are limited you can combine colors to achieve a more unique finish. You can also layer the hues for a customized look or create deeper shades by applying multiple coats of the same hue.
How much does it cost to stain concrete?
The cost of staining concrete really depends on how difficult the job is. This includes the complexity of the application, the size of the project, and the surface prep requirements. An application of one coat usually runs $2 to $4 per square foot. More complex applications requiring multiple layers or special design details can run around $15 per square foot due to the skill level and time involved. Learn more about the cost of stained concrete by clicking here.
Does stained concrete fade?
The color is very long lasting due to the absorption of the color into the concrete. When the stain is properly applied the color will not fade, peel, or chip.
There are so many creative and custom options for finishing concrete, but first and foremost important is the concrete itself. At Custom Concrete Creations we have state of the art equipment and a properly trained team with years of experience. Custom Concrete Creations is a premier contractor serving the Omaha area as well at the Midwest. Give us a call or send us an email for your custom concrete finishing needs today!