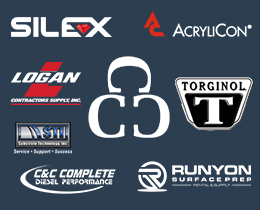 We thought that this week we would shed some light on the people that help us do what we do and make everything possible at Custom Concrete Creations! We appreciate our suppliers and love working with each and every one of them. We couldn't do the work that we do without their services and work. We highly recommend you check out the following suppliers and feel free to visit their websites or contact them about their services as well!
Silex Custom Concrete Solutions is based out of Oklahoma City, Oklahoma. Silex prides itself in pioneering advancements and developing high-performance tools and concrete treatments in the floor polishing industry. They work in the commercial and industrial market sectors. Silex utilizes a scientific approach in the polishing process that produces fully refined floors to their maximum potential while creating repeatable and quantifiable results. They also offer SILEX University which is in-depth quality training and certification classes for installers to become Certified Silex Concrete Floor Installers. They are dedicated to providing the tools installers need to utilize and understand the benefits of polished concrete and professional industry knowledge and skills. For more information on Silex's services, you can contact them here.
Torginol, Inc. is a global leading manufacturer and supplier of decorative materials for use in flooring systems that contain resin. They brought seamless flooring from Germany to the United States in the 1950s. Nearly half a century later, Torginol is still bringing decorative durability to the most challenging areas and environments. Here in the United States, they are based out of Sheboygan, Wisconsin. They manufacture and develop innovative material technologies such as polymer ColorFlakes, quartz ColorGranules, Natural ColorMicas, metallic ColorPigments and polyester ColorGlitters. These materials enable customers and designers to specify an optimal flooring solution by combining ergonomic resilience and beauty that will enhance any space. If you're interested in learning more about Torginol, you can contact them here.
The experts at AcryliCon have more than four decades of experience and development in the service providing industry. The United States headquarters resides in Alpharetta, Georgia. Products from AcryliCon are invented in Norway, made in Germany, and installed worldwide. Their expertise is in all different types of flooring and they find issues, develop products, and find solutions for their customers. Over the years they have expanded both their product range and their locations (which are now all over the world!) Their modern production facility manufactures product from quality raw materials in Germany. The staff will lay the flooring and ensure that every client receives the long-term solution that they are looking for. To learn more about AcryliCon, you can contact them here.
Established in 2006, C&C Complete Diesel Performance in Bennington, Nebraska specializes in Ford Powerstroke, GM Duramax, and Ram Cummins diesel truck repair and performance. Their team of ASE certified mechanics has over 60 years of combined experience in diesel repair. They pride themselves in being Nebraska's most trusted diesel repair shop by focusing on honesty and customer satisfaction. To talk to the guys over at C&C, you can contact them here.
* * * * * * * * * *
There are so many creative and custom options for finishing concrete, but first and foremost is the importance of the quality of the the concrete itself. At Custom Concrete Creations we have state of the art equipment and a properly trained team with years of experience. Custom Concrete Creations is a premier contractor serving the Omaha area as well as the Midwest. Give us a call or send us an email for your custom concrete finishing needs today!