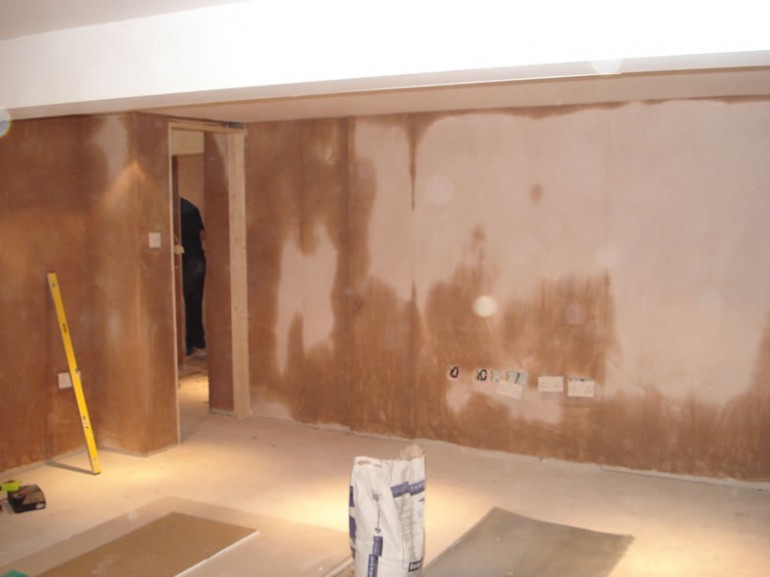 Since we just wrote a blog about the importance of waterproofing your foundation, we thought we would explain the difference between waterproofing and damp-proofing. The difference is actually pretty distinct. Waterproofing prevents all liquid and soil moisture from penetrating the foundation walls and damp-proofing works to prevent only soil moisture from penetrating the foundation.
Over the years many buildings have been damp-proofed, but referred to as waterproofed, which isn't the same thing. Section R406 of the International Residential Code (IRC) indicates the conditions that require waterproofing and damp-proofing. While waterproofing is only required "in areas where a high water table or other severe soil-water conditions are known to exist," damp-proofing is required for masonry or concrete walls that have earth against the exterior and interior space that are below grade. These walls must be damp-proofed from the top of the footing to the finished grade. There is also a list of permissible materials by the IRC.
Damp-proofing is typically a asphalt based coating that is either hand applied or sprayed on to the exterior foundation wall. It is not recommended frequently in modern residential construction, but it is an adequate solution in a lot of situations. The disadvantages consist of not being able to seal holes or larger cracks resulting from form ties, and the possibility of damage from coarse or careless backfill. Damp-proofing is able to supply long lasting and sufficient protection for many basements and crawl spaces.
The same care is required in waterproofing as it is in damp proofing when it comes to the surface treatment and the drain pipe, but it is much more precise when it comes to treating the wall itself. If there is any concern that damp-proofing will not be enough for the job, then it is a good idea to go ahead and spend a little more time and money to waterproof, especially with liveable space.
What you choose for preventing water penetration depends on the local climate conditions. Areas that have low water tables and drier climates often build basement walls that are ten feet tall. In areas with high water tables and annual rainfall, you will more likely see slab foundations on grade level. These foundations, although above grade, also need protection from the moisture below to prevent it from penetrating through the slab. (Click here for vapor barriers on concrete slabs.)
So, there you have it, the difference between waterproofing and damp-proofing! We hope you join us for next weeks blog! There are so many creative and custom options for finishing concrete, but first and foremost important is the concrete itself. At Custom Concrete Creations we have state of the art equipment and a properly trained team with years of experience. Custom Concrete Creations is a premier contractor serving the Omaha area as well at the Midwest. Give us a call or send us an email for your custom concrete finishing needs today!