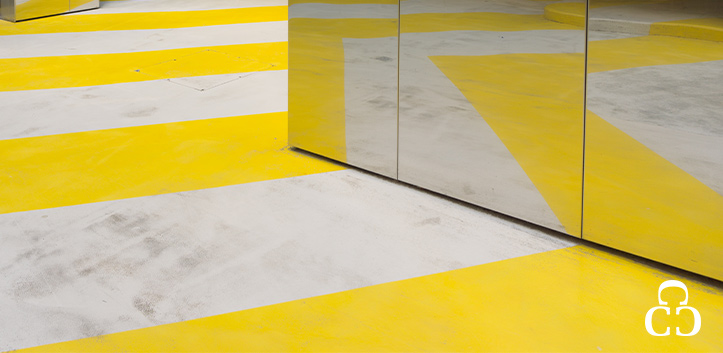 We have all sat down watched a little too many YouTube videos. You might have started watching a cute puppy video and somehow ended up in the DIY section. Now after watching a couple of DIY concrete floor videos, you are considering removing that stinky old carpet that is in your living room. We believe you should rethink your whole decision on DIYing concrete floors. Sure, the Youtuber makes it look like a walk in the park. Please don't make the mistake that others have by trying to create and install their concrete floors on your own! With YouTube and Instagram videos feeding our desire to DIY everything, we need to remember custom concrete floors are better left off to the professionals. When it comes to doing concrete floors, you need to understand that there is a entire process that is more than just pouring concrete on the floor. Because we know concrete flooring, we want to share some reasons you should not DIY concrete floors.
Your floors will end up cracking.
Working with concrete is a complicated process if you have do not have experience or proper training. You need to understand precisely how concrete is mixed and prepared. The last thing you want is to have cracked concrete floors. When installing concrete flooring, water is concrete's best friend and enemy. Too much water will leave your concrete cracking and weak. Not adding enough water could also be just as bad as adding too much. If you don't add enough water, it will create spider-like cracks all over your floors. These types of cracks are the worst because you cannot get rid of them. Since the cracks are so thin that it's impossible to fix them.
Working with concrete is not a walk in the park. It can be dangerous. You need to know the proper safety procedures to keep yourself and others safe while working with concrete. Not using the correct methods could result in you harming your eyes, head, back and even skin.
The DIY will cost you more than having professional help.
The goal of doing your own custom concrete floors was to save money, but it probably ended up costing you more than expected. You will need to buy or rent the correct equipment for the project. On top of that, you will need to purchase all the materials to create the concrete. If the floors do not turn out the way you were expecting and you decide to contact a professional, your whole project could double or triple in cost.
Invest in your home wisely. You wouldn't hire someone with zero experience to do your concrete floors, so why would you do it yourself? Next time leave the DIY projects for holiday decorations or your kids' school projects. Leave the concrete flooring to professionals like us. If you are looking at add custom concrete floors to your home or business, contact us for more information or check out our website.
______________
Custom Concrete Creations is chosen to help facilitate projects because we are the preferred custom concrete floor company, not only in Omaha, but for the greater Midwest region. No project is too big or too small for our team of seasoned experts who use state-of-the-art equipment on each and every project. We help you achieve the look of your dreams and do not consider the job done until you are happy with the results. So give us a call or contact us for your custom concrete needs today!