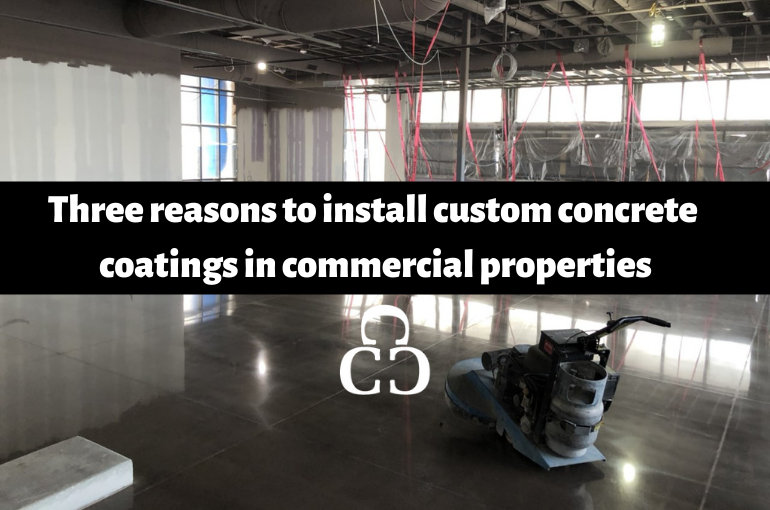 Polished concrete floors are the latest hot thing in the design world. It is sleek, sturdy, affordable and easy to maintain. This type of floor is not only eco-friendly but also gives you different options for your commercial building. You can add some beautiful custom concrete coatings to give it a chic, yet professional look. The whole process requires minimal intrusion and materials, which means a little impact on your environment. Plus, the floor will last for years, and that translates to saving money spent on repairing many other types of floors.
Oftentimes, commercial property owners will choose something like laminate flooring or tiles, which are popular options. They are also likely to cost less than polished concrete floors. Though you will be saving money on the initial installation, laminate, tiles and other cheaper options will more than likely need to be repaired or replaced a few times during their lifetime.
The biggest draw for polished concrete floors in commercial spaces is that they are incredibly durable when it comes to foot traffic. You can put heavy machinery or furniture on it and do not need to worry about scratches or dents. Plus, you can select a wide variety of stains and finishes to make it look exactly as you'd like.
If you are a commercial business owner and are considering your options for flooring, here is why polished concrete should be your top choice.
Lasts for centuries
Commercial floors are exposed to a lot of activities, and therefore, if made of delicate materials, the cost of maintenance will be high. Concrete coatings are durable, and business owners do not have to worry about the wear and tear of their floor. It is not affected by abrasions and hardly chips even where they use heavy machinery or experience heavy human traffic.
Water resistant
A concrete floor does not absorb water and is not affected by moisture, making it excellent for workplaces. Moreover, it does not get stained by water because it is non-porous. Since the concrete coatings are water resistant, you will not have to deal with mold growth or damaged floor.
Variety of styles
Contrary to the common belief that concrete floors are typical, there are different types of concrete custom coating. Some have aesthetic appeal perfect for offices, restaurants, and hospitals. The mundane concrete floors are mostly installed in warehouses and industrial buildings. As a property owner, you have a wide variety to choose from along with different colors, designs, and patterns to improve the appeal and ambiance of your commercial building.
Most business premises have dull floors, which means that tenants have to incur the cost of enhancing them. However, as a property owner, concrete coating offers the ultimate solution. Commercial properties benefit from custom concrete coating, just like residential ones. The above are just some of the benefits of installing custom concrete coatings. Remember, you get much more when you install them in your commercial property.
If you need some help figuring out your perfect polished concrete floors, give us a call today! We can get started on your project right away and give you the beautiful floors you've been dreaming of!