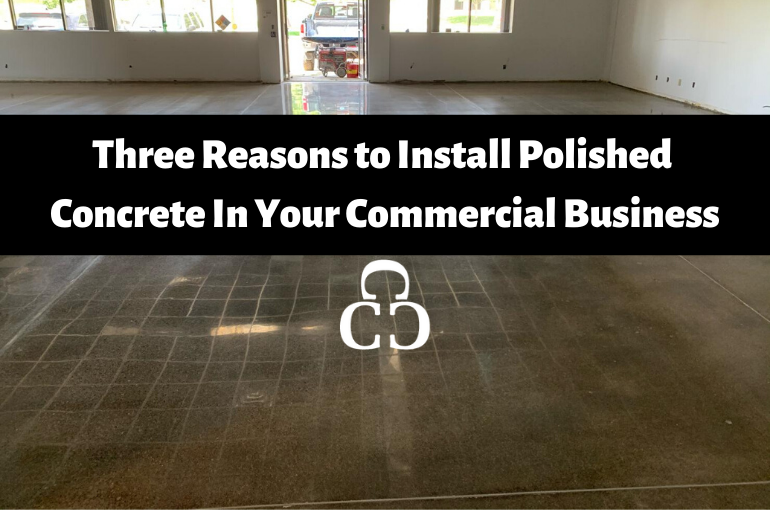 Concrete floor is the latest hot thing in the design world. It is sleek, sturdy, affordable and easy to maintain. This type of floor is not only eco-friendly but it also gives you different options for your commercial building. You can add some beautiful custom concrete coatings to give it a chic, yet professional look.
Oftentimes polished concrete is installed in warehouses and factories, but using it in your commercial space can be a great way to be sure that your flooring will be durable, but will also bring a unique aesthetic to the space.
Industrial interior design has become more and more popular. This means that a lot of designers are leaving exposed brick, wood and concrete. If you are looking for these types of design elements, polished concrete could be the perfect choice for your space.
The whole process requires minimal intrusion and materials, which means a little impact on the environment. While a concrete floor may initially cost more, it will last for years, which means that you will save money on repairs and upkeep of flooring that is less durable and less expensive.
Lasts for Centuries
Commercial floors are exposed to a lot of activities, and, if it is made from delicate materials, the cost of maintenance will be high. Concrete coatings are durable, and business owners do not have to worry about the wear and tear of their floor. It is not affected by abrasions and hardly chips even where they use heavy machinery or experience heavy human traffic.
A huge benefit to polished concrete is that it can withstand heavy foot traffic. If you own a business or facility that has a high volume of guests like restaurants or hotels, you know how quickly your flooring can wear down. A concrete floor will stand the test of time and require little to no repairs if properly cleaned and cared for.
Water Resistant
A concrete floor does not absorb water and is not affected by moisture, making it an excellent choice for workplaces. Moreover, it does not get stained by water because it is non-porous. Since the concrete coatings are water resistant, you will not have to deal with mold growth or damaged floor. This is especially beneficial if you are installing in a space that has humidity or heat like a commercial kitchen. It is also beneficial when combating damage due to the elements like rain or snow.
Comes in a variety
Contrary to the common belief that concrete floors are typical, there are different types of concrete custom coating. Some have aesthetic appeal perfect for offices, restaurants and hospitals. The mundane concrete floors are mostly installed in warehouses and industrial buildings. As a property owner, you have a wide variety to choose from along with different colors, designs and patterns to improve the appeal and ambiance of your commercial building.
Most business premises have dull floors, which means that tenants have to incur the cost of enhancing them; however, as a property owner, customization offers the ultimate solution. Commercial properties can become a unique and different space that sounds out. The above are just some of the benefits of installing custom concrete coatings. Reach out today to see how we can help you find your perfect polished concrete floor!