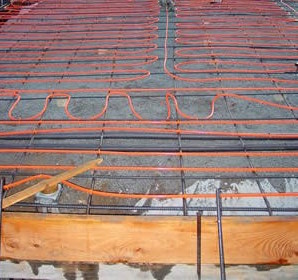 Previously we have blogged about the steps of radiant heat installation, but today we will discuss some tips about installing radiant heated floors rather than how to actually install them. Typically a certified professional should install radiant heat elements instead of a concrete contractor unless the contractor is experienced in installing radiant heat elements, due to the complexity of the design and layout of radiant heated floors. For a successful installation it takes a lot of planning and teamwork. The following tips are suggested by the Radiant Panel Association (RPA).
Become educated.
Learn about radiant floor heating and the options available. Educating yourself on radiant floor heating systems will help you to communicate your needs to the designer and installer. Besides using RPA as a resource, the Hydronic Heating Association is a good resource as well as other websites of radiant system vendors.
Choose a qualified installer.
As with any mechanical system being installed, a qualified and skilled professional should be the one to design the radiant floor system. Designers know the capacities of the different systems, how the different components work together, special considerations for installing in your area, and product reliability and warranties. A heat loss analysis should be done room by room followed by appropriately sizing the system. Click here to find certified radiant contractors in your area.
Team Work.
Communicating and good coordination are key when it comes to successfully installing radiant floor heating systems, which is done between a team that may consist of a concrete contractor, an architect, a general contractor, and a radiant system installer. These professionals should work together as a team to best meet the needs for heat capacity requirements and flooring installation. One important thing is to be aware that project sequencing and the height of flooring assemblies can be affected by radiant heating systems.
Know how heat transfer is affected by flooring.
Radiant heating systems must be able to properly heat through the concrete that it's embedded in as well as the flooring choice above it. The professional doing the radiant heat system should have the following considerations during the design stage: any areas of the floor that may not be able to be heated (due to fixed items such as cabinets), heat loss, and factors that impact resistance to the transfer of heat, like floor coverings. Usually, a conductive medium, like concrete or a cement based overlay is used to encase the radiant system. Concrete transfers heat better than being laid under another type of subfloor or other types of flooring such as laminate or carpet.
Have the right controls to run your system.
It is important to have the right control system to ensure energy efficiency and optimal comfort by evenly maintaining desirable room temperatures. This should be done within the upper limits specified for the particular floor type. You will be able to use a simple floor thermostat if you live in an area that has modest heating needs and consistent and steady temperatures. On the other hand, if you live somewhere that has drastic temperature changes and high heat loss then a more sophisticated control system will better fit your needs. Such systems have separate sensors to monitor the temperature inside the floor slab, the temperature outside, and the room temperature. Make sure to converse your control needs with the radiant heating professional.
There are so many creative and custom options for finishing concrete, but first and foremost important is the concrete itself. At Custom Concrete Creations we have state of the art equipment and a properly trained team with years of experience. Custom Concrete Creations is a premier contractor serving the Omaha area as well at the Midwest. Give us a call or send us an email for your custom concrete finishing needs today!