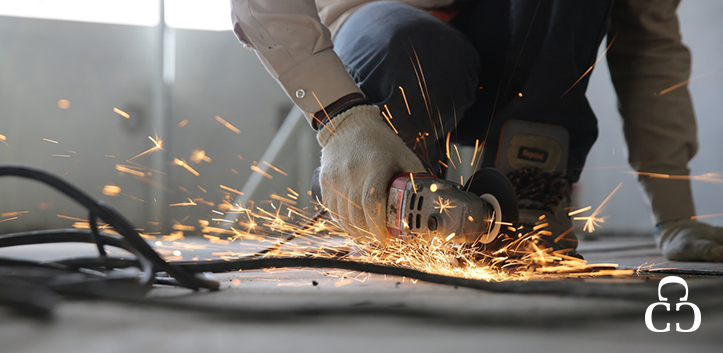 Polished concrete is as versatile a flooring solution as you'll find anywhere!
It offers longevity, durability and aesthetic brilliance. It just so happens to be the type of project we specialize in!
These kinds of decorative concrete creations can be tailored to your space and the things you require of it on a daily basis. Warehouses, airplane hangers or car sales floors, we can handle them all!
Polished concrete can also be much more cost-effective than other flooring solutions due to the fact that the original grade's concrete slab can be spruced up. No new surface is needed!
In order to transform a boring, dull concrete expanse into a glossy finished concrete surface, we use a spread of specialized tools. Our suppliers connect us with top-of-the-line polishing and cleanup equipment that enables us to complete any job.
Floor preparation and polishing tools
The first step in the polishing process involves grinding the raw surface to a serviceable point. This means that pitting, chipping, blemishes and any remnants of previous coatings on the surface are all removed initially. Without this first step, the concrete wouldn't be fit to polish further.
The machine used for these steps is called a planetary floor grinder. Essentially, it's a self-propelled grinder that uses circular rotation to evenly sand down a rough surface.
The actual grinding elements are round, textured pads that have a diamond compound on their surfaces. The diamond can be bound by a range of different materials depending on the grit, the job size and the heat that the pad will be subjected to. Popular choices are chemical resins, plastics and metallic compounds.
Problems can arise quickly if cheap or poorly-constructed polishing pads are used for grinding. In certain cases, the bonding material can melt due to friction. When this occurs, the resin is transferred to the surface of the concrete and creates a kind of faux-polished coating. This is NOT the process used to polish concrete properly and the resulting surface coating wears out much more quickly than a properly-polished floor would.
Cleaning up the jobsite
Two methods of polishing are used by contractors, depending on the characteristics and requirements of each individual job: wet and dry polishing.
The difference between the two is fairly straightforward – one uses water to lubricate and cool the surface during grinding. The polishing method dictates the cleanup procedures that are used to maintain the jobsite during and after the work.
Wet polishing creates a kind of concrete dust soup that must be disposed of. Dry polishing, on the other hand, produces huge amounts of dust that isn't suitable to breathe.
To solve this problem, most planetary floor grinder machines can be hooked up to a vacuum that collects the waste product as the floor is being polished. Brands like Husqvarna and Pullman-Holt offer wet/dry vacuums that can handle either cleanup method.
Next time you see one of our stunning decorative concrete creations, remember all of the work and tools that helped made it possible!
******
Custom Concrete Creations is chosen to help facilitate projects because we are the preferred custom concrete floor company, not only in Omaha, but for the greater Midwest region. No project is too big or too small for our team of seasoned experts who use state-of-the-art equipment on each and every project. We help you achieve the look of your dreams and do not consider the job done until you are happy with the results. Give us a call or contact us for your custom concrete needs today!