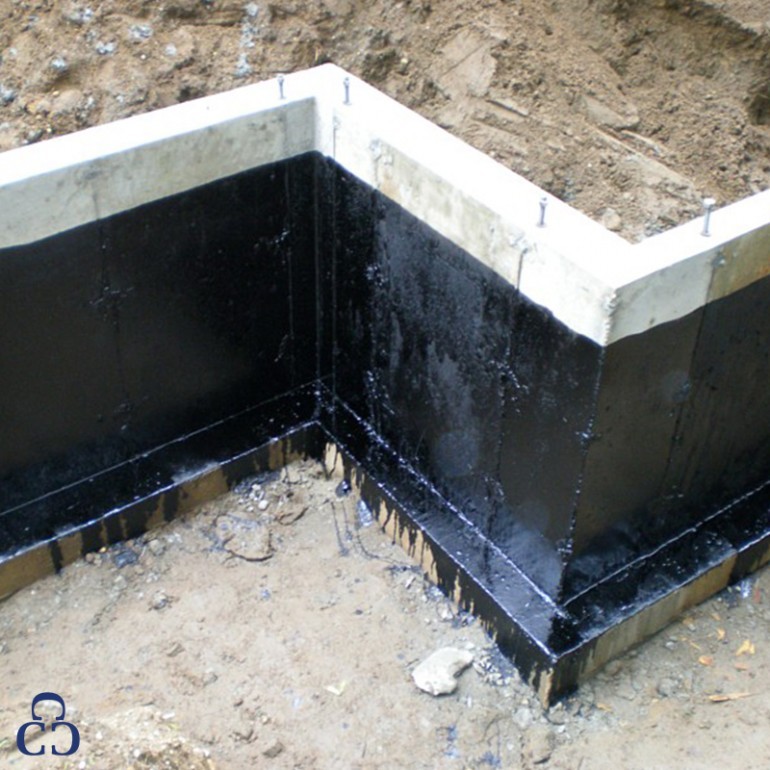 Waterproofing a foundation before you install concrete is a smart choice and should be planned out ahead of time to ensure sufficient results.
When scheduling a waterproofing contractor, make sure to plan for it on your layout plans ahead of time because during the hectic season it can get very busy.
Determining where the finish grade line will be is important because you will not want the black material to be exposed.
Layout lines can be marked with chalk to show where the finish grade will occur. If the foundation is somewhat simple, typically the waterproofing can be applied a few inches away from the top of the foundation.
Keep in mind that there may also be things like intersecting walls, porch foundations, and others concrete that will also need to be waterproofed.
When it comes to curing time, make sure to pay attention to the manufacturer's requirements. Typically, for each layer, concrete should be cured for at least seven days (or even longer) before application.
Concrete can take a while to dry completely after it has been poured. Make sure to check the curing time for the concrete because times can vary considerably.
When protecting in-place waterproofing, the systems typically need to be protected during backfilling. Some manufacturers offer a protection board or a drainage mat to keep this safe.
It is also important to use an adhesive that works with the waterproofing material and is compatible to prevent dissolving.
Making sure that no one walks across the waterproofing membranes is also essential if you want to keep it looking smooth and refined.
Be careful if you choose to place yourself near the area of work being done. There are various hazards present such as flammable materials, respiration hazards, skin injuries, eye injuries, and injection hazards.
Many waterproofing products are solvent-based. Solvents are often flammable and any sparks or fire should be highly avoided.
A respirator should be used, especially in tighter spaces, to avoid inhalation of vapors and fumes. Some vapors can be deadly.
Lastly, high pressure airless sprayers can inject toxic chemicals into your bloodstream. So use extreme caution and use all correct safety procedures if you will be around the waterproofing of a foundation.
* * * * * * *
Custom Concrete Creations is chosen to help facilitate projects because we are the preferred custom concrete floor company, not only of Omaha, but of the greater Midwest region.
No project is too big or too small. We have state-of-the-art equipment and a very experienced and reliable team. We help you achieve the look that you wish and don't consider the job done until you are happy with the results.
So give us a call or contact us for your custom concrete needs today!