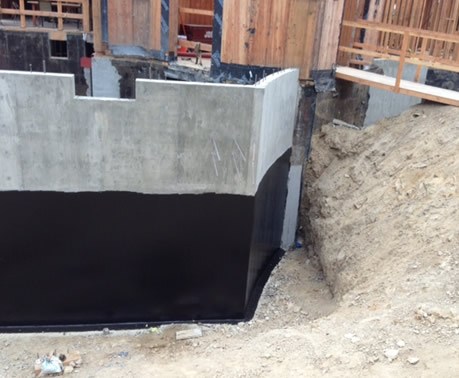 It is critical to waterproof the basement of homes. Beside burning down, one of the worst things that can happen to your home is having foundation problems. Your home's foundation is was is literally supporting your home and keeping it in place, transferring the dead loads and live loads into the ground.
Most foundation problems happen due to water. If the soil becomes wet under the foundation then it can swell or lose strength. This is the biggest reason to keep the foundation dry, there are many others. If basements or crawl spaces become damp or wet it can create a mold problem and also make the space very unpleasant. Regular concrete is not waterproof, which can create problems. Only when concrete is not cracked does water stay out, but water vapor can still get in very easily. And let's be honest, concrete is known to crack over time. Channeling water away from the foundation and preventing it from being absorbed by the concrete is critical for the foundation to remain secure. (Click here to compare waterproofing products.)
Depending on the geographical location, topography, climate, depth of the foundation, and soil/water table conditions, reaching the goal of channeling any water away from the foundation can be done without too much work. This will make sure that the interior space below grade will remain dry and moisture free preventing many common water related foundation problems. To keep the water out there are three main elements of a system created to keep water out of the basement. (Click here to learn about surface prep for waterproofing.)
The elements are:
Water drains to route water away from the bottom of the foundation
A special treatment for walls to keep moisture from penetrating the walls, this will force the water to the drains
Treating the surface of the ground directly next to the structure to keep surface water away
It is important to remember that the foundation will primarily be underground after construction is finished, so it is critical to do the job right the first time. Having to make repairs afterwards is a laborious and expensive undertaking. Water leaking through the foundation of a home can damage furnishings, finishes, and even the structure itself. If water leaks into a business is can damage expensive equipment and interrupt work flow. Overall, water problems in the foundation equals nothing but problems. It is expensive to fix, takes a lot of time and labor to repair, and can even involve litigation at times. (Click here to learn how to waterproof.)
There are so many creative and custom options for finishing concrete, but first and foremost important is the concrete itself. At Custom Concrete Creations we have state of the art equipment and a properly trained team with years of experience. Custom Concrete Creations is a premier contractor serving the Omaha area as well at the Midwest. Give us a call or send us an email for your custom concrete finishing needs today!