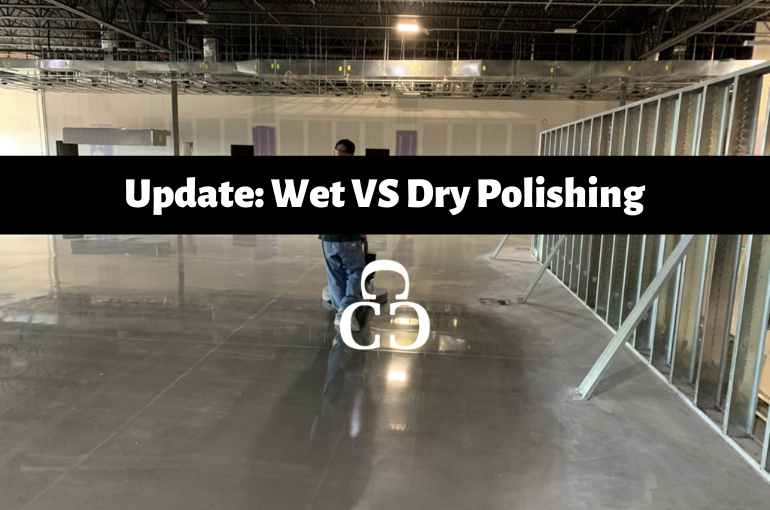 Polishing concrete is an effective way to strengthen your floors while adding an attractive shine. This can be achieved using two different methods - dry or wet. Though they are primarily the same, there are a few key differences you will want to consider when choosing which method is used for your space.
The wet process
Water is added to the polishing process to create a lubricant that reduces friction of the diamond tooling and minimizes the risk of melting the resin or having it glaze over.
This process also creates a mixture of grinding dust and water, often called a slurry, on the surface of the concrete that keeps harmful dust out of the air and your lungs. When finished, the slurry can be recycled and used for other projects. However, at the end of the process, the slurry has to be cleaned up and disposed of properly, often slowing productivity.
The polishing disks for this method have the same grit sizes, resulting in a low luster finish.
Because this process has been used for many years, it is often the preferred method for many contractors and consumers. However, there are still a few disadvantages to consider when choosing which method is right for your space.
Advantages
Cost effective

Keeps harmful substances out of the air

Slurry can be recycled
Disadvantages
Difficult to achieve the same shine that dry polishing can

Due to the rising water issues, there is concern that this method might be wasteful

The leftover slurry is time consuming to clean up and dispose of properly
The dry process
New technological advancements in polished concrete have made it possible for grinding disks to withstand the heat and friction of dry polishing, making it unnecessary to add water to the process.
The tools used in this method comes with a dust containment system, or vacuum, eliminating the need to cover and clean everything afterward. Not only does this process save time, but it promotes a safer work environment as well.
For individuals seeking shining, highly polished concrete, the dry method is the way to go.
Advantages
Can achieve a higher shine

Less time spent extracting dust

Equipment can be rented to save money
Disadvantages
Generally higher cost

Longer down time
Which method is right for your facility?
The method you should use is often based on personal preference, but sometimes it depends on your facility. For example, restaurants may be required by law to use a dust free method, so they have to opt for a wet process while others, who want to impress their customers with a high-gloss finish, might choose the other.
Both methods have their advantages and disadvantages, but one method is not necessarily better than the other. Working with a knowledgeable professional will help you determine which process is right for your space.
At Custom Concrete Creations, we specialize in polished concrete flooring and provide our customers with the expertise and knowledge to help your project succeed. For inquiries or more information, visit our website or give us a call today!