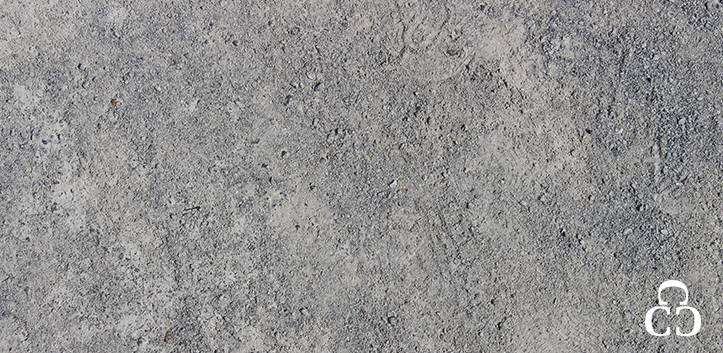 Have you ever been told not to use rock salt on your custom concrete flooring? If you have, you probably tried to avoid it in general, unless you're going for a salt finish concrete look.
Salt in general is not ideal for concrete because it can cause the freeze-thaw cycle to happen. When the water is trapped in the concrete's pores, it freezes causing concrete to expand. Once the warmer temperatures come around it will leave cracks on the surface.
If you're looking for a salt finish concrete texture or design for your concrete floors, you can use salt to create this effect.
What's a rock salt finish concrete?
A rock salt finish gives concrete floors a speckled pattern. It's a simple way for homeowners to get that weathered look without going over budget. Color can be incorporated into the concrete to fit any home's curb appeal.
How is the rock salt finish created?
Recreating the rock salt finish is considered one of the most uncomplicated concrete finishes. Homeowners could accomplish this finish on their own or get a professional custom concrete company to do it. We highly recommend to call a professional for the best results. There are two ways to recreate this finish.
Traditional salting.
The first step for using the traditional salting technique is to lay down the concrete on the desired location. If there was previous concrete down, it's important to make sure it's removed. A fresh concrete floor needs to be installed for the salt effect.
A professional will sprinkle salt particles over the wet concrete. Once it's sprinkled over the wet concrete, its grains are the rolled down.
For 24 hours the concrete is left to dry. Once the concrete hardens, a powerful spray is used to remove the salt from the surface. After the salt is full removed it will reveal the rock salt finish concrete.
Roller and skin salting.
If you're looking for a much simpler approach, try the roller and skin salting tools. These tools give the finished look of rock salt without the need of heavy equipment.
A salt-patterned roller is a paint-like roller that can be used on top of wet concrete to make the impressions. While a rock salt salt roller is a texturing skin that has the patter of the rock salt.
Where not to have rock salt installed?
The main location where rock salt finish isn't ideal to install into a home is in areas where it snows and freezes. These locations aren't ideal because ice water makes its way into the holes which can cause cracking. The freezing will cause the cracks to expand and eventually create holes.
There are different ways that rock salt finish concrete can be accomplished. Don't forget Custom Concrete Creations can always help you seal any concrete floors to help them last longer! ! Contact us today!
____________________
Custom Concrete Creations
is chosen to help facilitate projects because we are the preferred custom concrete floor company, not only in Omaha, but for the greater Midwest region. No project is too big or too small for our team of seasoned experts who use state-of-the-art equipment on each and every project. We help you achieve the look of your dreams and do not consider the job done until you are happy with the results.
So give us a call or contact us
for your custom concrete needs today!