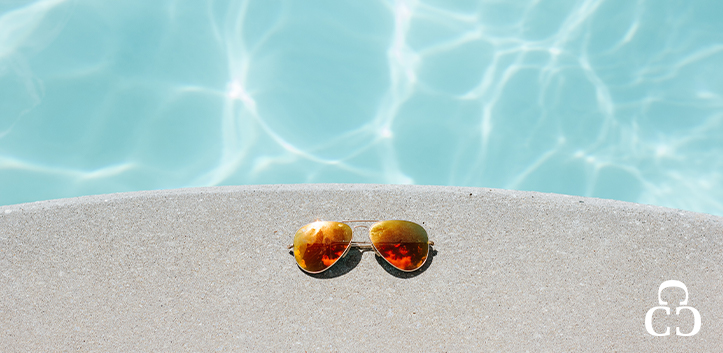 With the use of concrete in your business or even home, there are some things you need to know to ensure you and your concrete can live happily ever after. As you probably know, every relationship has its trials and tribulations and your relationship with your concrete is no different.
To make things work to the best of its ability you need to prepare properly for the summer weather and your concrete!
The human skin begins to feel pain at 111 degrees fahrenheit. It's no wonder people dance around on hot sidewalks, driveways, outdoor patios and pool decks.
So, what happens when your skin touches hot concrete at a degree of about 130 degrees?
Answer: Second-degree burns!
At any point when the temperature of water, metal or any other conductor reaches over 131 degrees, a second-degree burn is imminent.
That's why you should be wearing shoes while you are walking around the neighborhood or pool deck. Something important to note is that if it's too hot for you it's definitely too hot for your children and pets. It's recommended to plan walks around the neighborhood in the evening and have your children wear flip flops at the pool.
Tip #1: Consider installing shaded areas!
Not only are umbrellas great for blocking the sun from your skin, but they also block sun from heating up your concrete! The darker the color the more UV radiation that will be absorbed. That's a good thing because the sun is absorbed into the fabric instead of your concert!
You may see a lot of awnings outside of stores, restaurants and hotels. So, why is that? Because they make great barriers that keep harsh sunlight away!
Most likely to be used in an industrial building or fast food drive-through, a cantilever allows for a small perimeter of shade around the exterior of your building.
So, for spaces that don't get a lot of sun, but you still want to protect your concrete, these would be ideal form of shade.
With a little more style, this type of shade option is great for any outdoor space. Whether you're an event center or other commercial building, a gazebo offers the shade you'll need to make your concrete safe for your customers.
Tip #2: Cool down patio with water.
When it comes to cooling down your concrete, you only need a very little amount of water. If too much is used your concrete can become slippery and that's not good for anybody! Refrain from using a hose or power washer on your concrete. All you have to do is take a bucket or glass of water and splash it in areas that need cooling down.
If your concrete patio or pool deck is getting too hot, try to add some shade! If you have any further questions regarding hot concrete, please contact us at Custom Concrete Creations! We are here to help!
_____________
Custom Concrete Creations is chosen to help facilitate projects because we are the preferred custom concrete floor company, not only in Omaha, but for the greater Midwest region. No project is too big or too small for our team of seasoned experts who use state-of-the-art equipment on each and every project. We help you achieve the look of your dreams and do not consider the job done until you are happy with the results. So give us a call or contact us for your custom concrete needs today!