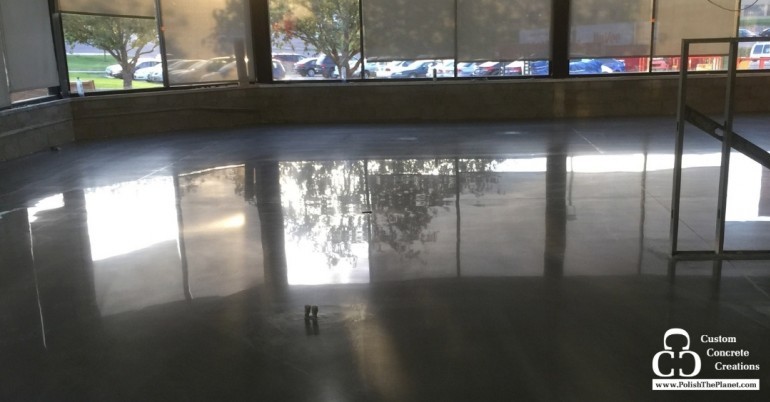 When building a restaurant, there are many things you need to take into consideration. What will the overall design look like? What building materials are you wanting to use? How much maintenance will be needed? These are some basic questions to ask yourself to help you get started with your new restaurant building.
At Custom Concrete Creations, we specialize in polished concrete floors. Our team has installed polished concrete floors in many commercial buildings throughout the midwest, and we strongly believe that it's one of the best flooring solutions for restaurant buildings! Below, we explain why polished concrete just makes sense for your new restaurant.
Concrete floors are easy to clean
Restaurant floors can become dirty very quickly. Luckily, polished concrete is one of the easiest materials to clean and take care of! At the end of a long, busy day, your employees don't want to be struggling to get dirt and debris out from between tiles. Concrete is very easy to mop and can be cleaned quickly with limited products.
Concrete floors are durable
Restaurant floors see a lot of wear and tear on a daily basis. Because of this, they require a flooring material that will be able to handle the daily foot traffic restaurants see. Concrete floors are great for restaurants because they are difficult to damage, so you won't have to worry about repairing your floor every few years.
Concrete is resistant to heat, which is key in a restaurant with ovens and stoves. Concrete floors will not burn or chip if you drop a hot pot or pan on it. Concrete floors can stand up to grease, hot water and oils without you worrying about permanent damage. Of course, your best bet is to clean up any of these spills as quickly as possible, but they are much better than other options when handling these things.
Concrete floors are safe
Slippery floors are very dangerous in any workplace environment where employees are moving quickly and carrying heavy items. Slippery floors also pose a huge risk to your customers. Polished concrete floors can be coated to prevent slippage or can be scored to give the floor more traction.
Concrete floors are customizable
Lastly, one of the best benefits of installing concrete floors is that they are completely customizable. You can match your concrete floors to whatever design you choose, as well as make them any color you want to. You are even able to add your restaurant's logo, which will make your brand really stand out in your design.
Restaurants see a lot of foot traffic on a daily basis. This, on top of food and drink spillage, requires a functional flooring solution. Luckily, polished concrete floors are some of the easiest floors to take care of and also offer amazing design and durability benefits. Consider polished concrete for your next restaurant flooring solution!

Need help with your next flooring project? We are here to help! Call Custom Concrete Creations today to learn more about our concrete products and services.