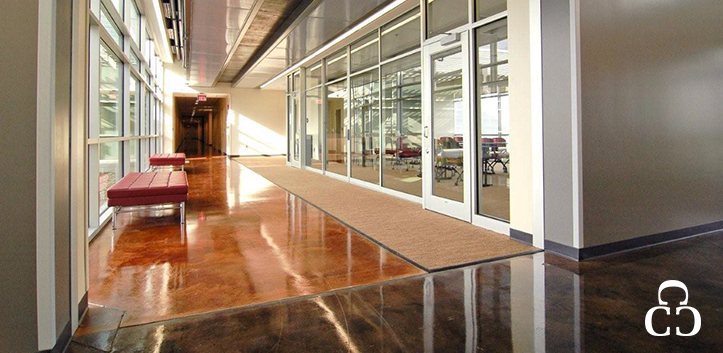 If your business is going through a rebrand and is in need of a significant change in its floor color, you should consider all of your long lasting options. Or perhaps you want to replace your home's current flooring with something more durable. Concrete flooring with an acid-based stain could be the solution to both these situations.
At Custom Concrete Creation, we offer acid-based staining to old or new concrete flooring. If you already have existing concrete floors, this is a great option! You do not have to worry about having to start from scratch with your floors. We can use your old concrete floors and give the top a fresh new coat.
We understand your need for customized flooring that fits your business' brand or your home's needs. We recommend acid-based concrete flooring to our customers because it is customizable and durable. Plus, it has all the great benefits of concrete flooring.
We have more than five years of experience in the concrete flooring business. We know how to intensify the colors to the tone of your choice. We have infinite effects that we can achieve by either layering the stain colors or applying the stains over other coloring systems or colored cementitious topping.
The benefits of an acid-based concrete stain.
Concrete flooring has numerous benefits ranging from the look to the durability. However, if you add an acid-based stain to the concrete, it could double the benefits. An acid-based concrete stain penetrates the concrete surface to effectively add luster to a dull surface. We thought we would share some benefits of adding an acid-based concrete stain to your existing or new concrete floors.
It is water resistant.
One of the things you want to ensure when you have concrete flooring is to make sure no water creeps in. If water gets into the concrete floors, it can cause the floor to crack and deteriorate.
An acid-based concrete stain can prevent the creation of cracks and water damage. It creates a barrier to prevent the build-up of moisture that can build up on concrete flooring. You can be sure that your floors will be safe and long lasting.
It is customizable.
Who does not want their flooring to match the color of the walls they just painted in their home? Well, we understand the need for finding the correct shade. With an acid-based concrete stain, you can get your desired palette. Here at Custom Concrete Creations, we use nothing but the best. We exclusively use L.M Scofield Chemstain. This stain penetrates the cured concrete flooring to give you the distant and permanent color you need.
Longevity
The longevity of your concrete flooring is set with an acid-based concrete stain. You won't have to worry about it deteriorating or replacing it every two years. The acid-based stain will protect your floor from many factors like water and the peeling.
Easy to clean
Although an acid-based concrete stain flooring is not maintenance free, the process of cleaning is relatively easy. Even your kids could do it! All you have to do is use a dry mop to pick up the dust and dirt that could get into the pores. Also, you should mop the concrete floor with clean water once a week. It would help if you though to avoid any floor cleaners containing ammonia, bleach or acid-based cleaners.
Are you excited about acid-based stained concrete flooring yet? We offer an acids staining service for both commercial and residential. Whether your home's flooring needs a little TLC or your current business needs rebranded, we can provide you with a helping hand with over five years of professional experience. Give us a call to get started on your next project today!
__________________
Custom Concrete Creations is chosen to help facilitate projects because we are the preferred custom concrete floor company, not only in Omaha, but for the greater Midwest region. No project is too big or too small for our team of seasoned experts who use state-of-the-art equipment on each and every project. We help you achieve the look of your dreams and do not consider the job done until you are happy with the results. Give us a call or contact us for your custom concrete needs today!