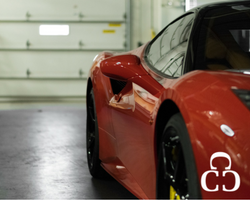 So you're thinking about applying an epoxy coating to your garage floor but don't know if you should DIY or hire a pro. When it comes to home improvement projects, this exact question plagues many homeowners. You know the decision you should probably make but are feeling adventurous and oh so crafty, so what should you do? As Omaha's premiere flooring specialist, we'd like to offer our assistance in helping you make this difficult decision by recommending you hire a pro when it comes to this specific project type. We know, we know; you were planning on having a fun weekend with this project, but projects like this actually do require expertise in ensuring it gets done right. To further iterate this, here are 5 reason why you should hire a pro to apply an epoxy coating to your residential or even commercial garage flooring.
Material Options
When considering the addition of an epoxy coating to your garage floor, you'll likely want a variety of different colors and textures to choose from. Using a DIY kit will greatly limit these options, as these kits often only provide tan, grey or black as color options. Additionally, they usually only provide a small number of decorative chips that you must evenly apply throughout the surface before the coating cures. A professional will be able to provide you with a myriad of options and chips to best suit your needs.
Surface Preparation And Repair
Before any epoxy coating can be applied, the concrete surface must first be smooth, secure, and rid of any cracks, holes, or eroded areas. A professional will fill first evaluate the surface and then fill any cracks or holes and grind away any eroded areas to properly prepare the surface for the coating to be applied. This is a tremendous undertaking not to be taken lightly. Additional equipment is required that is not included in DIY kits, so hiring a professional would undoubtedly save you time and money.
Sealant And Protection
When applying an epoxy coating, you'll also want to make sure you add a protective sealant to ensure lasting product quality and an easy to clean surface. When you have a DIY kit, sealants aren't provided, so you'll have to consult the internet or a store employee on which would best fit your need. A professional will provide you with a superior quality one and know exactly what they're doing when applying.
Product Quality
To say it simply, DIY kits don't hold the same product quality as that of an industry-grade epoxy. In order for manufacturers to make the kits less expensive, they must dilute the epoxy resulting diluted densities ranging anywhere from 40-50% solids. When you hire a pro, the density will look more like 95-100% solids. This makes a huge difference, as the professional grade epoxy will sink more thoroughly into the concrete for optimal adherence. This makes for a thicker and more durable coating when compared to watered-down DIY epoxy kits.
Timing
Remember that fun weekend you wanted to have doing this project? Yeah, not gonna happen. At-home DIY kits generally require the epoxy coating to dry for 5-7 days before what industry professionals call "hot tire pickup" will occur. When you hire a professional, it generally require less than 24 hours for the coating to dry, so you won't have to worry about this "hot tire pickup."
We hope this post has been helpful to you in making your decision a bit easier! To gather more information to assist you in making your ultimate decision, click here.
At Custom Concrete Creations, we have state of the art equipment and a properly trained team with years of experience. Custom Concrete Creations is a premier contractor serving the Omaha area as well at the Midwest. Give us a call or send us an email for your custom concrete finishing needs today!