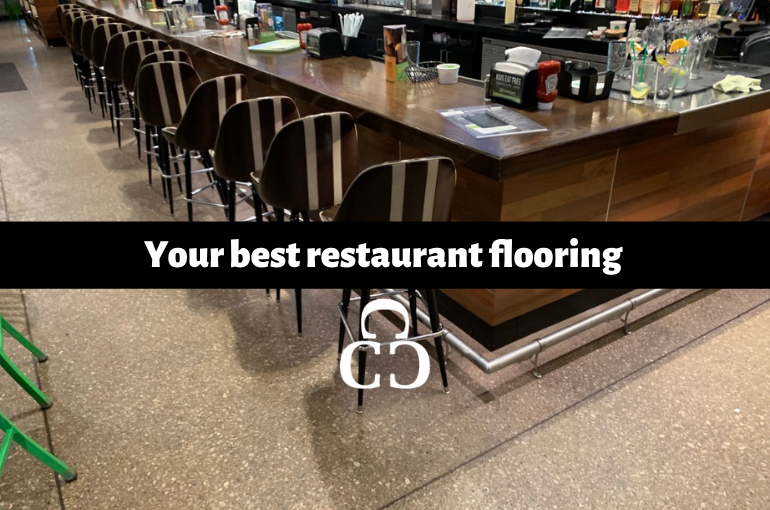 When building a restaurant, you'll need to make key decisions about the materials you use. This means everything from wall decor, furniture and flooring options. As a restaurant owner, you will likely want to choose items that are durable and easy to maintain. This will ensure that you will not have to repurchase or repair items that often.
Because restaurants are often faced with heavy foot traffic and big furniture and appliances, the flooring can easily get scuffed, scratched or dented. Popular flooring options like linoleum or tile don't stand up well to heavy wear and tear. You will likely spend a lot of time and money replacing them.
One of your best options is polished concrete floors. Regardless of how beautiful they are, they also have awesome advantages including easy maintenance and cleaning, durability, customizable and safety.
Concrete floors are easy to clean
One of the benefits of polished concrete floors is that they are very easy to clean, something that's key for a restaurant. At the end of a long, busy day, your employees don't want to be struggling to get dirt and debris out from between tiles. Concrete is very easy to mop and can be cleaned very quickly with limited products.
Concrete floors are durable
Restaurant floors see a lot of wear and tear. It's important that the floor can hold up for decades to come, no matter how much traffic they see. Concrete floors are great for restaurants because they are very difficult to damage, so you won't have to worry about repairing your floor every few years.
Concrete is resistant to heat, which is something that's key in a restaurant with ovens and stoves. Concrete floors will not burn or chip if you drop a hot pot or pan on it. They can stand up to grease, hot water and oils without you worrying about permanent damage. Of course, your best bet is to clean up any of these spills as quickly as possible, but they are much better than other options when handling these things.
Concrete floors are customizable
You can customize your concrete floor to suit your tastes. There are many different types of concrete to choose from, and you can add scoring or other detailing to make it more interesting as well. You can also paint concrete in varying colors to give it a more lively appearance.
Concrete floors prevent slippage
When your employees are running around a busy restaurant, the last thing you want is for them to slip. Slippery floors are very dangerous in any workplace environment where employees are moving quickly and carrying heavy items. Slippery floors also pose a huge risk to your customers. Concrete can be coated to prevent slippage or can be scored to give the floor more traction.
In a place like a restaurant where there are many spills, you want to be sure that you are being as safe as possible, which is why polished concrete floors are such a great choice.
Custom Concrete Creations offers custom concrete floors for restaurants and a wide range of other businesses. They offer scored concrete, salt finished concrete, and a range of other options to customize your floor. If you have a new project or a space that needs a renovation, contact CCC today to learn more about our services.